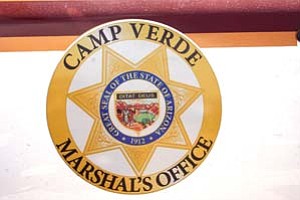 Originally Published: January 29, 2012 10:13 a.m.
A Camp Verde Marshal's Office deputy shot a suspect after a car chase by other agencies on Interstate 17 Friday night.
The suspect, who was not critically wounded, has been identified as Kenneth Kazubowski, 45, of Prescott Valley.
According to CVMO spokesperson Robin Bruno, the office had received information that officers with the Department of Public Safety and Yavapai County Sheriff's Office were pursuing an armed subject, reported as possibly suicidal, northbound on I-17.
The pursuit apparently began in the Cordes Junction area. After entering the town of Camp Verde, the subject left the vehicle and fled on foot. CVMO Deputy David Freeman found the man in a vacant lot behind businesses near the I-17/260 intersection. According to the report, Kazubowski displayed a weapon, and Freeman fired several rounds. The man was hit, but neither Freeman nor any other officer was injured.
Bruno said the subject was flown to Flagstaff Medical Center with "non-life threatening injuries."
YCSO is conducting a criminal investigation into the incident. Cottonwood Police Department will be conducting the administrative investigation at the request of the Marshal's Office.