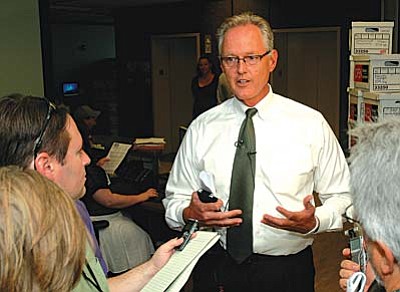 Originally Published: July 8, 2012 10:36 a.m.
PHOENIX -- Arizona voters will get a chance to revamp how elections statewide are run.
Backers submitted more than 365,000 signatures Thursday to put a measure on the ballot to have primaries run on a non-partisan basis. The top two vote getters then would face off in the general election.
In a predominantly Democratic legislative district that includes downtown Tucson, that likely would result in two Democrats running against each other in November.
In heavily Republican Mesa, however, Democrats probably would end up out of the running, with the general election between two Republicans.
Candidates could list their affiliation on the ballots. But, in the end, that would be for identification only -- and irrelevant to the November races.
Proponents say the move would deny public office to radicals on both ends of the political spectrum.
Former Phoenix Mayor Paul Johnson said the problem relates to the fact that the state is pretty much equally divided among Republicans, Democrats and independents.
And of that third, only a relatively small percentage of each party's members turn out to vote in the primary.
Then, a simple majority of those who turn out determine who will be the nominee.
What makes that an issue is that in Arizona, a majority of the legislative and congressional districts are drawn in a way so that one party or the other holds a big majority.
That effectively makes the partisan primary the de facto general election.
"There's no competition,' complained Johnson who made an unsuccessful bid as a Democrat for governor in 1998.
"What's taking place is we're watching our legislatures and our congresses becoming more extreme, more polarized,' he continued.
"The reason for that is they want to get reelected in those (partisan) primaries,' Johnson explained, as they seek to appeal to the highly partisan voters who tend to turn out for such races.
The proposal is similar to what exists in some other states, including Washington and California.
In fact, it was specifically modeled after the Washington plan which the U.S. Supreme Court upheld two years ago.
But Johnson said the idea is really not foreign to most Arizonans. He pointed out that's the way council members and mayors are elected in most cities.
And he argued that system works.
"The council people who are elected under an open system, an open election with an open primary, they know that when they run for reelection they're going to have to go talk to Republicans, independents and Democrats,' he said. "And so they govern accordingly.'
Johnson said there's a more recent example of how such a system would work: last year's recall of state Sen. President Russell Pearce.
Under state law, recall elections are open to all. That resulted in a race between Pearce and fellow Republican Jerry Lewis, with Lewis outpolling Pearce.
Johnson said that election between the two Republicans was affected by the fact that both had to appeal not only to Republicans but to Democrats and independents.
"Even Russell Pearce began campaigning on education and economic development,' Johnson said.
"They began to try to appeal to those centrist issues that are important to most people.'
The measure, if approved in November, would affect not only statewide, legislative and congressional races. It also would outlaw any other partisan races.
That means county supervisors.
And it also would overrule the current partisan system used in Tucson to elect its council members and mayor.
Existing nonpartisan races, such as for school boards, would remain unaffected.
Opposition is likely to come from not only the two major political parties but also minor parties who would find themselves shut out of the general election. Johnson, however, said it's not like Libertarians have had much luck winning races under the current system.
He acknowledged that being on the general election ballot, though, has allowed them to participate in debates where they get a chance to espouse their viewpoints. Johnson said they still will be able to do that -- in debates in an open primary.
At this point, Johnson is the major source of funding for the initiative, having loaned the campaign $150,000 from money he made in the construction and real estate industry. There also are $100,000 loans from former Democratic congressional candidate Jon Hurlburd and Glendale chiropractor David Berg who said he is a registered independent.
Greater Phoenix Leadership, made up of executives from many Arizona businesses, made an outright donation of $90,500.
A similar initiative was pushed in 1998, only to be knocked off the ballot by the Arizona Supreme Court over irregularities. That year, though, voters approved a less far-reaching option to allow those registered as independents to vote in the primary of any one party of their choice.