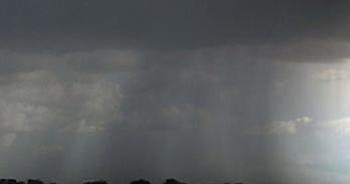 Originally Published: July 13, 2012 12:10 p.m.
The National Weather Service at Flagstaff issued a Flash Flood Warning for south central Yavapai County until 12:45 p.m. July 13.
NWS Doppler radar recorded heavy rain producing flash flooding from a thunderstorm over the area. The storm will affect locations in and around the Gladiator burn area including Crown King. Residents are cautioned to take preparedness measures.
According to NWS, the heavy rain will likely trigger life-threatening flash floods as well as mudslides, rock slides and debris flows within and downstream from the Gladiator Fire burn area. Roadways in the area will likely be inundated and washed out. Streams in the area will flow far above typical levels and will carry heavy amounts of sediment.
Areas impacted by the warning include Crown King Road, Senator Highway and potentially sections of Wagoner Road.
A flash flood watch is in effect through Saturday evening for Camp Verde, Cottonwood and Sedona, as well as most communities in Coconino County and Oak Creek Canyon and Sycamore Canyon.
Deep monsoonal moisture and upper level disturbance will move through western Arizona tonight through Saturday. Thunderstorms will be capable of producing rainfall amounts of one to two inches per hour. This rainfall intensity has been observed in Yavapai County Friday morning. Storm movement will generally be from south to north.
A flash flood watch means that conditions may lead to flash flooding in the watch area.
People, especially those located along area creeks, rivers and other flash flood prone areas should monitor later forecasts and be prepared to take immediate action should flash flood warnings be issued