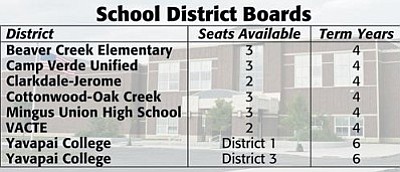 Originally Published: July 19, 2012 4:44 p.m.
VERDE VALLEY - Anyone interested in running for a school district governing board seat in the Verde Valley still has until Aug. 8 to file paperwork and return signed petitions. Candidate information may be obtained from local school district offices or the County Schools Office at 1015 Fair St., Suite 324 in Prescott. The general election will be held Nov. 6.
The Valley Academy for Career and Technology Education District elects board members by the school district represented.
The recently completed re-districting by the Yavapai County Board of Supervisors impacts the Yavapai College Governing Board. All five board seats will expire Dec. 31, or because of the effect of redistricting become vacant as a matter of law on Jan. 1.
The six-year terms for District 1 and District 3 expire Dec. 31, and those seats will be up for election on Nov. 6. Those elected to represent Districts 1 and 3 will serve six-year terms, beginning Jan. 1 and expiring Dec. 31, 2018.
Yavapai County School Superintendent Tim Carter will appoint current Yavapai College Board members who were duly elected by the voters and whose terms are being impacted through no fault or action on their part to fill the vacant unexpired terms of new districts.
More like this story