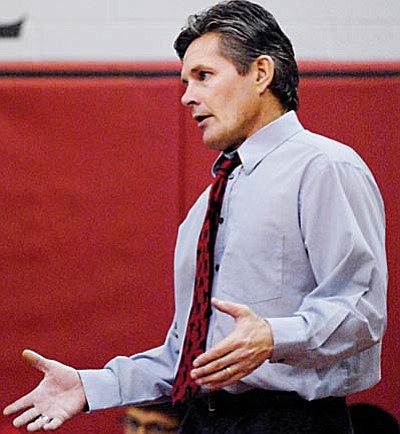 Originally Published: July 23, 2012 9:39 a.m.
COTTONWOOD -- Former Mingus Union High School championship wrestling coach Tom Wokasch and his wife each face two felony charges Cottonwood Police characterize as white-collar crimes.
The charges allege that the long-time coach misappropriated money by depositing cash from wrestling tickets and concession sales in the personal bank accounts of Tom and Laura Jean Wokasch. The incidents occurred over a five-year period.
Cottonwood Police spokesman Gareth Braxton said Wokasch and his wife are charged with fraudulent schemes and felony theft.
The charges read:
1) "On or before April 4, 2004, and March 9, 2009, Thomas John Wokasch (and Laura Jean Wokasch) pursuant to scheme or artifice to defraud knowingly obtained a benefit from Mingus Union High School by means of fraudulent pretenses, representations, promises or material omissions in violation of Arizona Revised Statute 13-2310, Class -2 felony."
2) "On or between April 4, 2004, and March 9, 2009, Thomas John Wokasch (and Laura Jean Wokasch) knowingly controlled property of Mingus Union High School, to wit: cash or checks of a value $4,000 or more to less than $25,000 to deprive Mingus Union High School of such property in violation of Arizona Revised Statute 13-1802, a Class-3 felony."
By a 4-1 vote in June 2010, the Mingus School Board dismissed Wokasch from his teaching position. He earlier had resigned his position as wrestling coach.
Cottonwood Police said the case was complicated by the fact that the Wokasch family had control over their books and did not follow school policy to record student transactions with the business office.
The charges follow investigations by both the State Auditor General and the intergovernmental investigative arm, the Rocky Mountain Information Network.
Braxton said, "The tricky part was there were the allegations and then the statements that contradict those allegations. It is enough to move forward to determine where we go from here."
The couple has not been arrested yet. They have, however, been summoned to appear before Judge Bill Lundy in Verde Valley Justice Court Aug. 21 at 9 a.m. Lundy is expected to transfer the felony crimes to Superior Court.