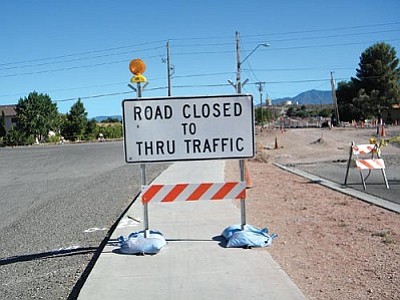 Originally Published: June 7, 2012 1:53 p.m.
COTTONWOOD -- It looks like there is a lot of drivable pavement in front of the Cottonwood-Oak Creek School District office and through the Cottonwood Village Retirement Center.
But be forewarned, you could get a traffic ticket if you use those driveways as a detour around the Mingus-Willard construction. Officers have already passed out tickets to some motorists, especially for speeding, according to City Manager Doug Bartosh: "It is against the law to drive on private property," said Bartosh.
"We only have a short window to complete the roundabout before school starts again, so it is important that workers devote all their time and energy to completing that section. We understand that it creates an inconvenience for motorists," the manager said.
Bartosh said the detours may be modified as construction continues. "We will look for ways to make it more convenient," he said.
A big complaint is the lack east-west movement on Mingus Avenue. The roadway is to re-open Aug. 8.
East Mingus Avenue is closed to through traffic just West of Brian Mickelsen Parkway. Drivers on North and South Willard Street are unable to connect to East Mingus Avenue. Several traffic control signs have been placed in that area advising of the street closure.
"Attempts to utilize private property to avoid a traffic control device may result in a citation," said Commander Gary Eisenga.
More like this story