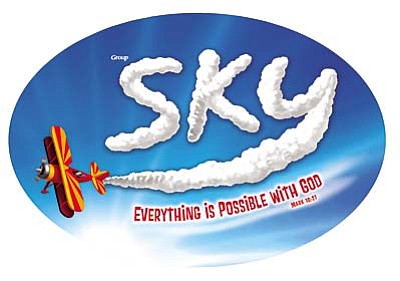 Originally Published: June 7, 2012 1:01 p.m.
A summer kids' camp called "Sky" will be hosted at St. John Vianney Church from June 11 to June 15 from 5 to 8 p.m.
At Sky, faith and imagination soar as kids discover that everything is possible with God. Kids participate in memorable Bible-learning activities, sing catchy songs, play teamwork-building games, dig into yummy treats, experience electrifying Bible adventures, collect Memory Buddies to remind them to trust God, and test out Sciency-Fun Gizmos they'll take home and play with all summer long. Plus, kids will learn to look for evidence of God all around them through something called God Sightings.
Each day concludes with Fly Away Finale-a celebration that gets everyone involved in living what they've learned. Family members and friends are encouraged to join in daily for this special time at 7:30 p.m.
Kids at Sky will join an international missions effort to squash malaria in the African country of Mali-sending more than a million mosquito nets to protect Malian children.
The children will be served a light supper each evening. The cost for the week is $10 per child or $15 per family. Scholarships are available.
Sponsoring churches for this event are St. John Vianney, Christ Center Wesleyan, Sedona United Methodist, and St. Andrews Episcopal Church.
Sky is for kids from age 4 to sixth grade and will run from 5 to 8 p.m. each day at St. John Vianney, 180 Soldiers Pass Road in West Sedona. For more information, call Laura at (928) 451-4415.
Get ready for a high-flying, high-energy adventure as kids discover they can trust God.
Sky, our summer, 2012 VBS theme is soaring with fun for kids in a week long evening series of Vacation Bible School at the Camp Verde Community Church, 480 First St.  The awesome activities and learning adventures begin at 5:30 and ends at 8:30 p.m., Monday through Friday, June 18-22.
All community-wide children, kindergarten through fourth grade are welcome to attend.  Applications can be picked up in the church office, M-W-Thurs., between 9 a.m. and noon.  Early registration is encouraged and in advance.  Applications are available at the church office or at the front desk of our local Bashas' store on Finney Flat Road.  
The church staff is organizing and completing the daily sessions with these great reasons to sign up your children to attend:  Kids connect with God and grow stronger in their faith as they discover that everything is possible when you trust God; and the games, grins, and Sciency-Fun Gismos, to the amazing music with a blend of new worship songs and classic hymns - everyone flies high at Sky.  Kids will understand that they're never out of God's loving care.
Call the church office for additional information, (928) 567-3447, or Lorraine Carling, (928) 567-0400.    
More like this story