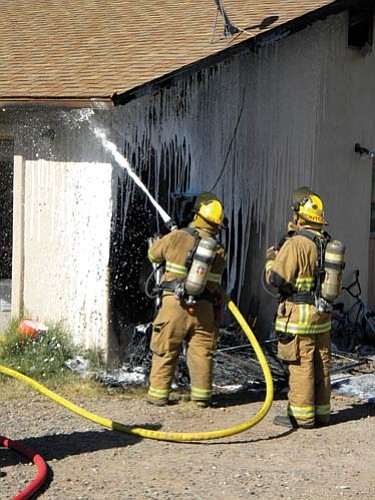 Originally Published: June 14, 2012 2:49 p.m.
COTTONWOOD -- A fire damaged a home at 1133 S. 10th St. Tuesday afternoon. Cottonwood Fire officials were dispatched when a couple of motorists saw the flames and called 911 about 3:45.
Cottonwood Fire Marshal Rick Contreras says an initial survey looks like the fire started on the outside south wall of the garage and burned into the structure. Fire burned up into the eves and crawled through attic above the garage. Cottonwood Fire with help from Verde Valley Fire stopped the blaze before it entered the home itself.
The cause of the blaze is still under investigation. Interim Chief Mike Kuykendall says the fire seemed to originate in a mattress and bed frame that were leaning against the wall, but investigators will have to rule out an electrical problem since the fuse box was also right there.
Even though the living area was saved, the home is not habitable because the power fuse box was destroyed. APS disconnected the power service pending repair.
The family that had recently occupied the homes said they would move in with their parents in the meantime.
More like this story