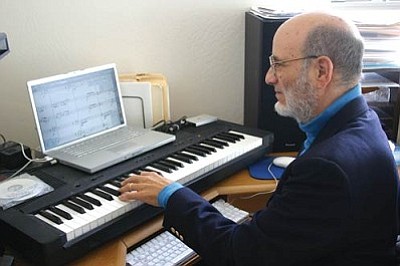 Originally Published: June 22, 2012 3:52 p.m.
Yavapai College's Osher Lifelong Learning Institute (OLLI) of Sedona & Verde Valley has cultivated strong relationships at the Sedona and Clarkdale campuses. OLLI of Sedona and the Verde Valley is a dynamic organization within Yavapai College created to meet the needs of intellectually active mature adults.
What makes OLLI a unique learning experience is that there is no pressure of tests, grades, or papers. It is a warm gathering of people who are endlessly curious and love to learn. This summer, in addition to offering a summer camp for adults, OLLI is making special efforts to reach out to neighbors in the Beaver Creek community.
Big Band Era is a learning group that will be held Mondays starting July 2 and shall run for four weeks until July 23 from 12:30 pm until 2 pm at the Beaver Creek School District Board Room, located at 4810 E. Beaver Creek Road, Rimrock. This learning group will explore the big band music of the 1930s and 40s through recorded examples, video excerpts, and discussion of the ethnic and cultural characteristics of the era.
The facilitator for this learning group is Dr. Sy Brandon, who holds the title of Professor Emeritus of Music from Millersville University, Millersville, PA where he taught low brass, composition, and popular music history, among other things. He received his B.S. and M.S. in music education from Ithaca College and his A. mus. D. in composition from the University of Arizona
As a composer, Dr. Brandon was recently commissioned by the Arizona Centennial Commission to compose a band composition to celebrate Arizona's 100th anniversary of statehood. Other first prize awards include WITF-FM's 25th Anniversary Composition Contest, and Franklin and Marshall College's Wind Ensemble Composition Contest. The Czech National Symphony Orchestra, the Philharmonia Bulgarica, and the Kiev Philharmonic have recorded his music.
As a performer, Dr. Brandon has played in symphony orchestras, chamber music groups, and big bands. In 1973, he played lead trombone for a band that backed up Goldie Hawn and Gladys Knight and the Pips as they were putting a show together to take to Las Vegas. He also played back up for such artists as the Fifth Dimension, the Association, Shirley Jones, and Ben Vereen.
Dr. Brandon has been active in the music business as a publisher and record label owner. He is also author of "A Composer's Guide to Understanding Music."
Space is still available for the Big Band Era learning group as well as other summer camp activities. For more information on OLLI of Sedona and the Verde Valley please call (928) 649-4275 or visit www.yc.edu/lifelonglearners.