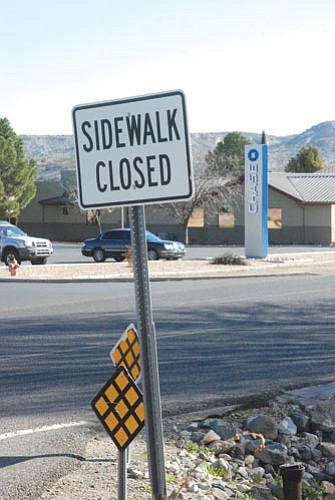 Originally Published: March 13, 2012 3:03 p.m.
CAMP VERDE - It has been nearly a decade since the State Route 260 and Main Street improvement projects tore up Camp Verde's main drag and sent drivers detouring through the back streets.
Now, somewhere toward the end of this month, the $1 million Finnie Flat drainage project is set to gut one of the busiest intersections in town and disrupt traffic once again.
"We are going to try to keep Finnie Flat Road open as much as possible and keep traffic delays to a minimum, but no matter how we do it there are going to be lane closures and detours," says Town Engineer Ron Long. "Folks are going to have to bear with us."
The project will affect traffic in the area of the Bashas' store, Tierra Verde Plaza, Chase Bank, Walgreens and the Post office.
The plan calls for ripping up nearly 100 feet of Finnie Flat, from Walgreens to Seventh Street, and installing a culvert that will run beneath the road.
The culvert will carry storm water from the Views and Cliffs subdivisions, under Finnie Flat Road, then through nearly 500 feet of concrete-lined channel, four to five feet deep and 15 feet wide, to the Verde River.
Long describes the drainage project as the first of several changes that will take place in the area where Finnie Flat Road transitions into Main Street.
Once the culvert is in place, the eastbound side of Finnie Flat Road from Walgreens to Seventh Street will be widened to two lanes, to include a right-hand-only turn lane onto southbound Seventh Street.
The sidewalk that currently terminates at the back of the Walgreens property will also be extended east to Seventh Street.
"We have a sidewalk project planned for the north side of the road that we hope to begin in early 2013, at which point we hope to clean up some of the traffic problems in the area," says Long.
The Finnie Flat drainage project is designed to handle a 100-year flood/rain event. The town is funding $280,000. The Yavapai Flood Control District is putting in $750,000.
Long estimates the project will be finished no later than the middle of August.
More like this story