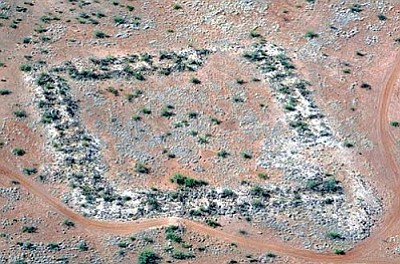 Originally Published: March 13, 2012 3:14 p.m.
CAMP VERDE - In 1927, a pothunter from Phoenix named George Dawson was looting his way through a ruin east of Camp Verde, not far from West Clear Creek, when he uncovered a stone cist.
His past experience, which included an extensive list of excavations in not only Arizona but also Mexico and Central America, had taught him that a stone box likely meant just one thing -- a burial. Judging by the size of the cist, Dawson figured it was that of an infant or small child.
His assumption was reinforced when he removed the lid to find the inner chamber filled with dirt. Knowing that burials were often accompanied by an assortment of finery, he took his time pulling back the loose soil.
About a foot to 18 inches below the lid he found a layer of feathers. Further excavation showed it was an entire blanket of feathers wrapped around what was sure to be a body -- that is until he reached in to pull it out.
Whatever it was, it was heavy -- far heavier than the bones of a human child. Dawson wrestled with the object for some time before successfully lifting it to ground level.
When he pulled back the blanket he could hardly believe his eyes. There before him was a leaf-shaped slab of iron, about two feet long, a foot wide and five inches thick. It was the strangest thing he had ever unearthed.
In time Dawson would come to understand that he had found a 135-pound nickel-iron meteorite, a fragment of the Canyon Diablo Meteorite -- the same one that created Meteor Crater east of Flagstaff.
What it was doing in a stone pueblo in the Verde Valley remains a mystery -- as does the mysterious pueblo itself.
The stockade
Dawson eventually sold his meteorite to the famous collector H.H. Nininger for $75 and a promise to take him to the pueblo in which it had been discovered.
It is through Nininger's copious notes that we know how it was found, the details of the transaction that eventually landed it in the collection at Arizona State University's Center for Meteorite Studies and, perhaps most importantly, where it was found.
Nininger described the pueblo that Dawson took him to as being built like a "stockade." Of all the Sinagua ruins in the Verde Valley there is only one that comes close to Nininger's description -- the Wingfield Mesa Ruin.
The pueblo is unique in that it is laid out in a near perfect, 200-by-200-foot square, each side one room deep and surrounding a square, central courtyard.
With only two exceptions, the major pueblos of the Verde Valley were built of individual rooms, atop and adjacent to one another, laid out in accordance with the terrain and devoid of common courtyards.
Mearns and Mindeleff
Fort Verde Surgeon Edgar Mearns first described the Wingfield Mesa Ruin in an article published in the October 1890 issue of Popular Science Monthly.
He saw it as a "less prosperous" village on account of it being only one story high, the result of its "inferior advantages for agriculture."
A year after Mearns' story ran, the gifted archaeologist/surveyor Cosmos Mindeleff visited the ruin during his reconnaissance and mapping survey of the Verde River.
Like Mearns, Mindeleff observed a ruin that was quite different from those scattered along the Verde. But his interpretation was also quite different.
"The ground plan is peculiar...Thirty-eight rooms can be traced, and there is no likelihood that there were ever more than forty, or that any of the rooms attained a greater height than one story. The population, therefore, was probably never in excess of 50 persons, or 10 to 12 families.
"The ground plan is just such as would be produced if a small band of pueblo builders, consisting of ten or twelve related families should migrate en masse...and after occupying the site for a few years -- less than five -- should pass on to some other location," Mindeleff wrote.
A new look
Although Mearns and Mindeleff were capable observers, they lacked many of the tools available to modern archaeologists.
As a result, modern archaeology's interpretation of the Wingfield Mesa ruin is different from both Mearns and Mindeleff.
Avocational archaeologist Bud Henderson, along with members of the Verde Valley Archaeology Society and Verde Valley Archaeological Center, has conducted a thorough survey of Wingfield Mesa over the last three years.
Among the things they have identified are over 100 agricultural features, including terraces, gardens and field houses, indicating the people who inhabited the pueblo did not lack for agricultural resources.
They have also completed an analysis of pottery fragments found at the site. Although there are not as many potsherds as would be expected, their numerous styles indicate that the site was occupied for more than five years.
Modern interpretation
Henderson believes the pueblo was occupied sometime between 1150 and 1400, but is unsure exactly when or for how long.
"I would definitely say it was in use for over 100 years, given the variety of pottery styles," says Henderson.
His interpretation is that it may have been built for trade and commerce or possibly had some religious value.
"Wingfield Mesa was principally an agricultural area serving the principal habitation site in the area, Clear Creek ruin," says Henderson, "We aren't real sure what the Wingfield Mesa pueblo's function was, but it doesn't appear that its primary function was as a residential pueblo."
The ruin has never been professionally excavated.
Whatever its intended function, Coconino National Forest archaeologist Peter Pilles agrees it does not fit in the landscape on which it sets.
"It looks more Hopi in style or possibly Salado, the culture that lived to the east of the Verde Valley but was contemporary to the Sinagua," says Pilles. "One thing's for sure, it's really an alien place."
"One thing's for sure, it's really an alien place."
--Peter Pilles
More like this story