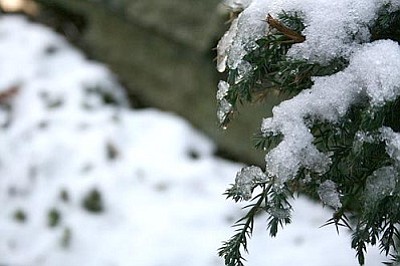 Originally Published: March 16, 2012 12:40 p.m.
A major winter storm could impact travel this weekend across the state, particularly in northern Arizona. The Arizona Department of Transportation advises travelers to carefully monitor weather and road conditions, which are expected to steadily decline as heavy snow and windy conditions are forecast in the higher elevations.
The National Weather Service has issued a winter storm watch for Saturday, March 17, through Monday, March 19, for Northern Arizona. Significant snow (up to 12 inches above 5,000 feet in elevation) and ice accumulations, along with strong gusty winds, could make travel difficult.  
A high wind advisory has also been declared for the northwest corner of the state, beginning at 11 a.m. Saturday until midnight. Strong southwest winds from 30-40 mph are expected, including gusts up to 60 mph. Strong crosswinds could make travel difficult, particularly on Interstate 40, Interstate 15 and U.S. 93.
In southwest Arizona, a wind advisory is in effect from 11 a.m. Saturday until 11 p.m. Strong southwest winds from 25-35 mph are expected with gusts up to 50 mph. ADOT urges drivers traveling on Interstate 10 near Quartzsite and Interstate 8 near Yuma to take extra precaution as strong winds can result in sudden periods of limited or zero visibility due to blowing dust, especially in desert areas.
Central Arizona, including the Phoenix metropolitan area, is also predicted to get a significant amount of rainfall, which could create slippery driving conditions on roads this weekend.
While ADOT is prepared to keep the roads clear and open, the agency is encouraging motorists to be prepared as well when driving in snowy and icy conditions. ADOT and the Department of Public Safety recommend the following winter driving tips:
Slow down, be patient and drive safely. Plan for extra travel time.
Be alert: ice forms on bridges first and is hard to see.
Leave approximately 500 feet between your vehicle and a snowplow.
Maintain at least a three-quarter full tank of gas.
Notify someone of your travel route, destination and projected arrival time.
Carry an emergency preparedness kit in your vehicle that includes blankets, extra clothes, a flashlight, an ice scraper, a shovel, sand for traction, a fully charged cell phone, and hazard warning lights or reflectors.
Brake slowly to avoid any panic braking or jerking the steering wheel.
Increase the distance between you and the traffic ahead.
Carry plenty of food and water and all necessary medications.
Carry tire chains, snow cables or snow tires.
Wear warm clothes to protect you during extended time periods in cold temperatures.
ADOT, along with DPS and NWS, will continue to work as a public safety team to support Arizona's highways and drivers and will closely monitor conditions on the highways while maintaining driver safety.
Before heading out on the roads, drivers are encouraged to call 5-1-1 or log on to ADOT's Traveler Information Center at www.az511.gov for the latest highway conditions around the state. Motorists should delay travel plans if possible.