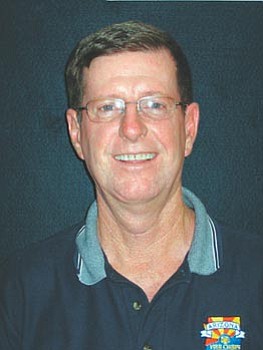 Originally Published: March 22, 2012 1:33 p.m.
COTTONWOOD -- The long-time chief of the Cottonwood Fire Department is hanging up his shield and helmet. Mike Casson has announced his retirement effective May 23. The date coincides with close of school for summer, when his wife Debbie Casson will also step down as teacher at the Cottonwood-Oak Creek School District.
"We have been passionately involved in our jobs and we made the decision we wanted to retire in good health. We will travel, see more of this country and the world, spend more time with our family and go fishing, " said Casson.
Cottonwood City Manager Doug Bartosh said the department has real depth in senior staff and he is planning an interim appointment internally who would work with the chief until his retirement.
Casson says he will stay involved in the community and hopes to maintain his roles in fire leadership and teaching with the Arizona Fire Chiefs Association, the mutual aid program and the statewide training committee, of which he is an active part.
Casson has been Chief of the Cottonwood department for 17 years, with a total of 38 years in fire service. Advancing out of college at ASU, he joined the Rural Metro Fire to spend a total of 21 years with the organization mainly in the Phoenix Metro area with posts growing from Firefighter to Chief of Fire Operations for Maricopa County. Before taking the Cottonwood job, Casson was chief of Rural Metro operations in Knoxville, Tenn.
"We made an intentional decision to come out of the urban area to a smaller town and raise our family with two young sons, Bill and Brady, in a healthy environment," said Casson.
Mike and Debbie grew up in Kingman where his father was the Volunteer Chief of the Kingman Fire Department, and one of 11 firefighters killed in a devastating propane tanker explosion in 1973. His brother still works for the Kingman department. Mike's son, Brady, is a member of the Cottonwood department.
Casson was inducted into the Arizona Fire Service Hall of Fame last year.
Casson said, "It's a great time to pass the baton. We have an excellent management team. The department has made significant accomplishments ... I have loved being fire chief in Cottonwood and I have mixed emotions. I have that passion and that is hard to walk away from."
More like this story