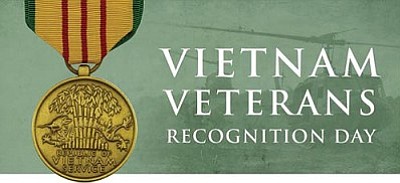 Originally Published: March 22, 2012 1:45 p.m.
COTTONWOOD -- Cottonwood Mayor Diane Joens, Tuesday, read a proclamation declaring "Welcome Home Vietnam Veterans Day, March 30, 2012. The proclamation commemorates the sacrifice of 623 Arizonans among 58,195 troops who died during the war and are listed on the Vietnam Memorial Wall. The proclamation declares March 30, 2012, Welcome Home Vietnam Veterans day in Cottonwood and calls upon all citizens to honor and recognize contributions of veterans who served in the Armed Forces in Vietnam and to "provide the appreciation Vietnam War Veterans deserve-but did not receive upon returning home from the war and resolve that never again shall the Nation disregard and denigrate a generation of veterans."
This year, an escorted motorcycle run will begin with a flag-raising ceremony at 10:45 at the flagpole at the Clarkdale Town Park. At 11 a.m., the run leaves Clarkdale for Old Town Cottonwood. The circuit of the Verde Valley will continue from Cottonwood, down SR 260 to Camp Verde. From Camp Verde, the riders will continue along I-17 to SR 179 into Sedona.
The ride concludes at the Posse Grounds Park in Sedona for 1 p.m. colors and picnic.
For more information, call the VFW Post 7400 at 928-634-9769.
More like this story