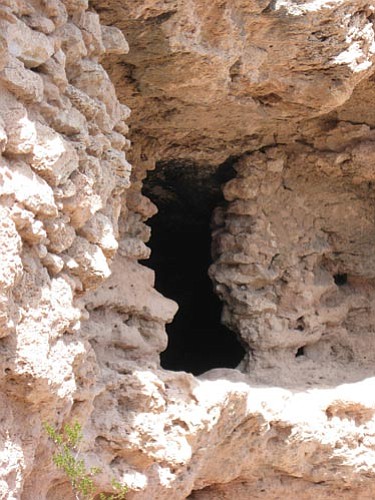 Originally Published: March 27, 2012 3:06 p.m.
CAMP VERDE - Less than six months after President Theodore Roosevelt signed the Antiquities Act of 1906, he signed a second document designating Montezuma Castle as a national monument.
In 1939, following an extensive excavation completed five years earlier, the husband of Teddy's niece, Franklin Roosevelt, put pen to paper and made Tuzigoot a national monument
Then in 1947, Harry Truman brought Montezuma Well into the fold as a satellite of the castle.
But lost in the history of three success stories was a failed attempt to similarly preserve what is arguably the largest and perhaps most significant ruin in the valley.
The Verde's largest pueblo
Located on a limestone mesa, three miles southeast of downtown Camp Verde and just north of West Clear Creek, is Clear Creek Ruin.
Evidence from the site indicates it was occupied over a considerable length of time (1150-1500?) and because of certain amenities also present, some archaeologists believe it was significant to the Sinagua both socially and spiritually.
It consists of one main pueblo and a handful of other pueblo structures spread across three levels of the mesa, overlooking the West Clear Creek drainage and much of the Verde Valley.
The ground floor of the main pueblo had at least 48 rooms. At least one archaeologist has suggested the structure may have risen as high as four stories.
In addition to the pueblos there are dozens of cavates, residences carved into the rock face below the mesa. Taken as a whole, the Clear Creek Ruin complex is believed to be the largest single prehistoric habitation site in the Verde Valley.
Unfortunately, it is also one of the most looted.
Concerns
National Park Service records show that Camp Verde residents brought the site to the attention of Montezuma Castle Superintendent Frank Pinkley as early as 1923.
Who pestered the National Park Service first wasn't recorded. But in 1932, Mrs. Jewell Heath, the wife a dairy farmer whose property lay just south of the ruin, began advocating for its protection.
Heath's concern was that the site had become a pothunter's paradise, and because of improvements being made at the time to the Fossil Creek Road, which passed directly beneath, it would only get worse.
Her concerns were nothing new to Pinkley.
In 1925 a man named Clark, who had illegally removed several items from the Clear Creek Ruin, donated some of those items to the museum at Montezuma Castle.
A year later, when Clark moved to Prescott, he asked for his artifacts back. Using the Antiquities Act, Pinkley, the NPS and the Forest Service successfully denied the request, contending that Clark had removed the objects without a permit.
Research monument
Somewhere around that time, Pinkley had contemplated acquiring Clear Creek, not as a publicly accessible national monument but as a "research monument," open for academic research.
In 1933 he sent Walter Atwell, an associate engineer to look over the Clear Creek ruin and report on its suitability as a research monument.
"It could work in admirably with the Castle in the link of southwestern monuments, for a good contrast between the Castle, as the best type of a cliff dwelling in the region and the Clear Creek ruin as the best representative of the of the pueblo type of construction here," Atwell wrote in his report.
Interestingly, while doing his investigation, Atwell found evidence of 52 illegal excavations made between April and November 1933, with an additional 26 made over the Christmas holidays that same year.
The next year, in an attempt to protect what he could, Montezuma Castle Custodian Frank Jackson secured a permit to begin excavating Clear Creek. But he soon learned that all available funding had been spent on Tuzigoot.
A second try
The notion of preserving Clear Creek appears to have gone dormant until 1939 when, as Congress was contemplating adding Tuzigoot to its inventory of national monuments, Pinkley and Jackson suggested adding additional properties to Montezuma Castle.
They proposed three sites - Montezuma Well, a site in Sycamore Canyon and Clear Creek.
The Sycamore Canyon site was eventually dropped, but a second report, done that year by associate archaeologist Erik Reed, again argued for protection.
"It would be difficult to find examples where conservation principles could be applied with greater force and urgency," Reed's boss wrote, in passing Reed's report to the NPS director.
But Pinkley and Jackson's efforts either fell on deaf ears, once again, or as Montezuma Castle historian Josh Protas speculated, the NPS was simply too busy with Tuzigoot and, eventually, Montezuma Well.
Still significant
Peter Pilles, archaeologist for the Coconino National Forest has studied the Sinagua as much as any living person. He believes Clear Creek was a happening place at the height of the Sinagua culture.
"During the Tuzigoot phase (1300 to 1425 AD), the far-flung population in the valley consolidated into about 50 major sites, mostly along the permanent waterways.
"Most of those pueblos tended to have about 20 or 30 rooms. Each had its own identity but shared it with others within its watershed to form communities, like the Beaver Creek community, Oak Creek community and Clear Creek community," Pilles says.
"As I see it, in each of those drainage areas there is one site I call the 'chief village.' On Beaver Creek it was Sacred Mountain. On Oak Creek it's Sugarloaf and on Clear Creek it's the Clear Creek Ruin complex."
Pilles notes that each of these sites is on a hilltop located on a historic trade route, is usually associated with a ball court, has a community room, tends to have an inner and outer courtyard and usually has a higher frequency of exotic trade goods found at the site.
With the exception of the ball court, Clear Creek has all the necessary features, and more.
But for all its past significance, it does not appear as though the modern world will be placing much more significance on the site than it has in the last 80 years.
"The Forest Service has designated it as a heritage site. But we don't have much up there," Pilles says. "Like everyone else we don't have the money to do much else with it. We have lots of grand ideas, but no means to
Sources
Interview with Peter Pilles, archaeologist Coconino National Forest with Steve Ayers, VVN, March 26, 2012
Interview with Bud Henderson, Verde Valley Archeology Center with Steve Ayers, VVN, March 26, 2012
Email correspondence from NPS archaeologist Matt Guebard to Steve Ayers, VVN, June 29, 2011,
A Past Preserved in Stone; A history of Montezuma Castle National Monument,
Memorandum dated June 20, 1939 from Acting regional director NPS to NPS director's office,
Letter from Frank Pinkley to Earl Jackson April 19, 1939,
Memorandum dated July 28, 1939 from A. R. Kelly to NPS director's office,
Undated letter from Mrs. John (Jewell) L. Heath to Superintendent Frank Pinkley,
Letter from NPS chief clerk to Mrs. John (Jewell) L heath dated June 22, 1932,
"Proposed Research Monument Number One, Clear Creek Arizona, Clear Creek Ruins," by Walter Atwell, associate engineer, April 9, 1934, U. S. Dept. of the Interior National Park Service Southwestern Monuments, Frank Pinkley Superintendent,
"Archaeological Investigations at Clear Creek Ruins (NA2806) Coconino National Forest, Yavapai County," Arizona Final Report for Phase One, prepared by Robert A. Cody Assistant Conservator,
Letter from Earl Jackson to Frank Pinkley dated April 6,1938,
Memorandum from the acting regional director's office to Frank Pinkley dated Oct. 17, 1939,
Memorandum from Fred T. Johnston, recreation and land planning to office of the Chief Counsel dated Oct. 23, 1939,
Memorandum from Arno B. Cammerer, director to the commissioner of the Bureau of Reclamation dated Oct 31 1939,
Letter from Jewell B. Heath to Representative John R. Murdock dated Dec. 14, 1938,
"Would dig into old Verde ruin," Prescott Evening Courier, Jan. 30, 1934,
"Progress Report on the archaeological investigations of Clear Creek Ruin Group with a preliminary report on excavations at NA10,769, a small cavate dwelling," Coconino National Forest, Yavapai County, Arizona, Preliminary Report by Bruce R. Hudgens, Northern Arizona University and Museum of Northern Arizona, November 1970,
Letter from Arno B. Cammerer, NPS director to John R. Murdock dated Jan. 9, 1939,
"Special Report on the Clear Creek Ruin, Arizona," by Erik K. Reed, associate archaeologist National park service Region III, Santa Fe N. M., June 1, 1939