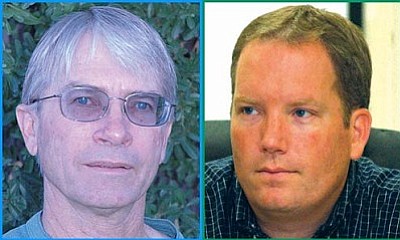 Originally Published: May 12, 2012 4:03 p.m.
CAMP VERDE - The subject has been broached and the question has been popped, once again.
Does the Town of Camp Verde want to assume control of the sanitary district? Does the sanitary district want to become a municipal utility?
They are questions that have been tossed about for years, but for a variety of reason have never gone much past discussion.
With the expansion project as complete as it's going to get for a while and the wastewater treatment facility up and running, there is an opportunity, once again, to merge the two.
On Thursday evening, Town Manager Russ Martin made his pitch to the sanitary district board, and the sanitary board told Martin, basically, let's get started, let's get it to the voters.
"It's a cost saver as far as the operations of the sewer system goes, and it's an economic necessity as the town moves forward," says Martin.
It's also an opportunity that may not come around for another two years, which is the main reason Martin says the discussion and planning needs to take place sooner rather than later.
"The Legislature has passed a bill this year, that if signed by the governor will limit elections to even-numbered years. We need to plan for that happening.
"If we don't do it this year, it will be another two years. The economy will get better and we need to be ready when it does. This is big part of being ready," says Martin.
At Thursday's CVSD meeting, the board voted unanimously to begin working with the Town to put the question on the November 2012 ballot.
"From my perspective it's advantageous to the community. Our ratepayers and the residents of the town are all members of the community," says Chairman Chip Norton. "There are also opportunities for economic development that can only happen if the town has control of the utilities. The town can do things we cannot do. Everybody will be better positioned for an economic recovery if the two entities are one."
In order for the Town to absorb the district's assets, the town voters as well as the district voters must approve the merger. The Town Council has yet to call for an election.