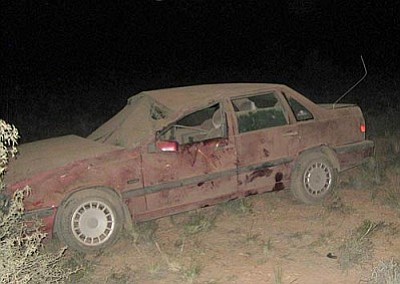 Originally Published: May 14, 2012 5:53 p.m.
A Cornville man died after rolling his vehicle off Cornville Road on Saturday night, reportedly at a high rate of speed.
Dawyesva Poseyesva, 25, was determined to be dead at the scene.
According to the Yavapai County Sheriff's Office, witnesses saw a red Volvo traveling east at an estimated 80 mph or more at milemarker 2, a 35 mph zone. The vehicle began swerving and then left the road and crashed through a barbed wire fence.
Investigators believe the Volvo rolled over at least once and came to rest about 100 feet from the roadway. Poseyesva was thrown from the car and trapped underneath.
Witnesses ran to the scene to try to help. According to YCSO, deputies arrived in about 5 minutes. EMS personnel determined Poseyesva was deceased.