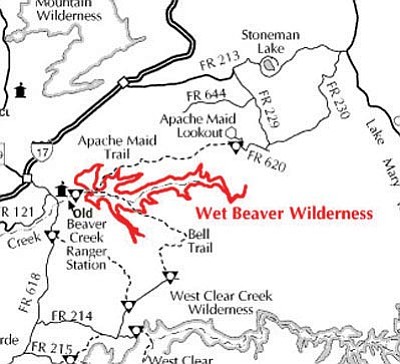 Originally Published: November 1, 2012 2:03 p.m.
A hunter had to be rescued from Wet Beaver Creek Canyon Sunday after a painful fall.
The 37-year-old man from Phoenix had been with three others hunting since 6:30 a.m. but did not return to camp by dark.
The Yavapai County Sheriff's Office and Department of Public Safety coordinated a search and rescue after family members called around 8:30 p.m. to report the man missing in the Wet Beaver Creek Wilderness.
The man's hunting companions told deputies they had walked to the edge of Wet Beaver Creek Canyon and decided to hike to the bottom. They broke into two groups. The man then became separated from his companion, who returned to base camp without him after dark. He said he could not locate the man and believed he was lost. He was also without a cell phone.
Deputies found other hikers who had come across the victim and gave him food and water. They did not think he could make it out of the wilderness area alone.
A DPS Ranger helicopter team spotted a signal fire and provided GPS coordinates to the Forest Patrol deputy. A Back Country rescue unit was sent in, and they were able to contact the victim around 2:30 a.m.
The man had fallen from a rock, landed on his binoculars and injured both legs and his chest. He had blacked out and awoke with abdominal pain and severe pain in both legs. He had been able to start a small fire for warmth and had used it as a signal when he heard the helicopter overhead.
The rescue unit, which also brought him warm clothes, spent the night with him until it was light enough for an air rescue. Around 8:30 a.m., a Ranger helicopter lifted him by long line to base camp where he received medical treatment. He was then airlifted to Flagstaff Medical Center.