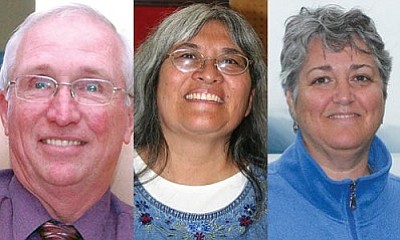 Originally Published: November 7, 2012 1:13 p.m.
An incumbent, a familiar face and a newcomer came out victorious in the Camp Verde School Board election Tuesday. Also decided on the ballot, Camp Verde Schools will not have the boost of a budget override.
Incumbent Helen Freeman was re-elected to the Camp Verde Unified School District's governing board, but it was former board member Bob Simbric who was the top vote-getter of the night. Joining them will be first-time candidate Christine Schneider.
There were five candidates for three seats.
Of 7,526 ballots cast, Simbric had 2,245 votes (nearly 30 percent), Freeman had 1,765 and Schneider had 1,501. Rounding out the field were John Kevin Lacy with 1,150 votes and Cora-lei Marquez with 843.
Simbric previously put in a total of 25 years on this board and does not think a lot has changed since he last held the office.
"We absolutely need experience on the board, and I'm glad that the voters have entrusted me again," Simbric said.
"I think the biggest thing I would hope to accomplish is taking a look at other districts and how they apportion out their dollars," Simbric said. "We can get support from [county superintendent] Tim Carter and others out there and find ways of doing things that are different than what we have done in the past. I'll be trying to investigate with the rest of the board how we might be able to deliver education and support the teachers and kids and then address administrative issues as we find out more information."
"I'm happy to serve again," Freeman said. "There are many challenges we're looking at, but we have the right people to help us to meet those challenges."
Continuing board members who were not up for election are Judy Gilbert and Trent Hackett.
Camp Verde voters did not give the school a 5-percent budget override, as the question was defeated handily on Tuesday's ballot by a 62/38 percent margin. That is closer than previous attempts at an override, though the board was not even in agreement about putting it on the ballot.
Neither Simbric nor Freeman was surprised by that defeat, and both said the district needs to look closely at ways to be more creative in educating children with a small budget.
"We need to take a really hard look at how we're spending our money; I still think we have not been as thorough as we could be," Freeman said. "With 204 also going down, we need to regroup and look at what we're doing and cut everything we can before we bring it back to the voters," she said.
Like Simbric, she said the current financial situation for education may make schools look much different in the future than they do now.