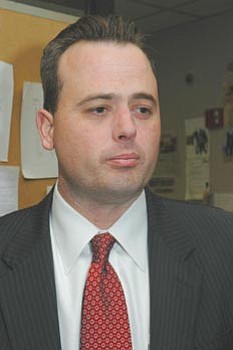 Originally Published: November 12, 2012 4:33 p.m.
PHOENIX -- The state's chief election officer wants tighter financial reporting laws so voters know who is really funding campaigns.
The comments from Secretary of State Ken Bennett come on the heels of the disclosure that an Arizona-based group gave $11 million to affect two California ballot measures. Of greater concern is that Americans for Responsible Leadership, forced to comply with that state's campaign laws, eventually conceded that it was only passing through money that had ultimately come from a Virginia group.
Ann Ravel, head of the California Fair Political Practices Commission, called it a case of "money laundering.'
What makes the incident an Arizona issue is that Americans for Responsible Leadership also put about $1.5 million into the campaigns to defeat the permanent sales tax hike in Proposition 204 as well as the open primary proposal on the ballot as Proposition 121. But nothing in existing Arizona law requires the group to reveal the source of all that cash and whether, like the money spent on the California measures, it came from out-of-state sources.
Former Arizona House Speaker Kirk Adams, who heads the group, sought to tamp down speculation that interests elsewhere were financing the campaigns against the two Arizona measures. He said contributions from Arizona sources "exceeded the amount we spent on Arizona campaigns.'
But absent a legal requirement, Adams was not naming names.
The record does show that the group, with its all-Republican board of directors, was involved in much more than just the Arizona and California ballot measures. Records on file with the Federal Election Commission show it also spent nearly $4.9 million to try to deny a second term to Barack Obama.
It also supported GOP congressional candidates, including $13,985 on behalf of Jeff Flake. And it singled out six-term Utah Democratic Rep. Jim Matheson for defeat, spending $108,590 against him.
Bennett said that his experience with Arizona elections in this and prior years convinces him more transparency in funding sources is needed.
He said existing state laws are focused largely on contribution limits for candidate races. Bennett said that may not be the best thing for voter education.
"We need to think more about how to more immediately provide disclosure as to who's giving and not focus so much on how much they gave,' Bennett told Capitol Media Services.
"As we've found out, if you give to one group and they give to another group, those monies can kind of be accumulated,' he said. "And it's not until well after the election that you know who was really behind the first giving.'
In fact, under Arizona law, there would be no formal reporting even after the election. And on ballot measures, unlike candidate campaigns, there is no limit on how much any individual, business or organization can give.
Adams said it is up to state lawmakers to decide what needs to be disclosed.
"We will comply with any new legislation or statutes that are passed at the Legislature and signed by the governor,' he said.
"But we will comply in the context of everyone else complying,' Adams continued. "This needs to be a playing field where everybody knows what the rules are when they step onto the field.'
Rep. Eddie Farnsworth, R-Gilbert, who chairs the House Judiciary Committee, said he believes better financial disclosure is needed all across the board.
"I'm aware of what happened,' he said of the donations by Americans for Financial Leadership. Farnsworth said he believes voters are entitled to know the ultimate sources of any money designed to influence elections.
But the record shows that getting lawmakers to expand financial disclosure requirements could prove difficult.
Last session, Bennett teamed with Farnsworth on legislation aimed at finding out who is behind corporations formed solely to influence elections.
That was a direct outgrowth of a 2010 U.S. Supreme Court ruling that said corporations and unions have an unlimited right to spend money to get a candidate elected or defeated. The only restriction is that these expenses must be made independent of the candidate's campaign committee.
In 2011 legislators approved a measure mandating disclosure of corporate expenses to influence an election.
But that law did not require these groups to disclose the sources of the cash under the presumption that corporations get their finances from many sources. Bennett said that would be like requiring the Coca-Cola Co. to list everyone who bought a soda as a source of its money.
But what happened last year, Bennett said, is some people found a loophole: They formed a new corporation to spend money on both the Phoenix mayoral race and the recall of Senate President Russell Pearce.
The legislation would have made those kind of corporations subject to the same laws and restrictions as any other political committee, including filing multiple forms each election cycle on the sources of their cash and how the money is spent. But after being approved by Farnsworth's committee, the bill stalled before ever getting to the House floor.
Farnsworth said opposition came not just from Republicans. He said Democrats "have things that they do through unions.'
Separate Democrat-sponsored legislation aimed at requiring better disclosure of free travel, entertainment and other benefits from lobbyists and special interests fared no better, not even getting a legislative hearing.