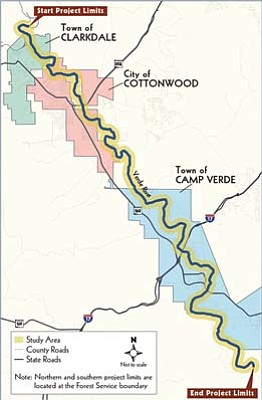 Originally Published: November 13, 2012 2:55 p.m.
VERDE VALLEY - After three years fine-tuning 73 miles of floodplain maps, covering the Verde River and 26 of its perennial and intermittent tributaries, the Yavapai County Flood Control District (YCFCD) has released its exhaustive survey of which properties are, and are not, in danger of flooding.
This evening, Wednesday Nov. 15, from 5 to 7 p.m. in the Men's Lounge at 19 N. Ninth St. in Clarkdale and on Thursday evening from 5 to 7 at the Verde Ranger Station, 300 E. 260 in Camp Verde, the district will present their findings to the public.
The three-year study updated the Federal Insurance Rating Maps used by the Federal Emergency Management Agency and insurance companies, as well as the flood control district, since the 1980s.
Mortgage companies and lenders require that any property within a designated 100-year floodplain carry federal flood insurance. FEMA recommends all properties within the zone, mortgaged or not, carry the insurance.
The half-million dollar study, stretching from Clarkdale to Beasley Flat, used new maps made in 2007 with more accurate technology to better define the parameters of the flood zone. As a result, several properties were added to the zone and several were taken out.
Every property owner, whose property was affected by the new maps, has been notified of the change, whether they were added to or taken out of the flood zone, according to Charlie Cave, director of the YCFCD.
"We sent out about 1,200 letters. I'd estimate more went to properties being added to the floodplain than to properties taken out. There are some entire neighborhoods affected but mostly it was individual properties along the edges of the map," said Cave.
The two meetings this week are identical, according to Cave.
"They are basically interchangeable, so one will do you as well as any. We will have a representative from the Department of Water Recourses at the Clarkdale meeting, but we will have representatives from the FEMA flood insurance program at both meetings," he said.
The meetings will include a looped video explaining the mapping project, and there will be a number of stations dispensing information.
"We will also have representatives from the district their with laptops so they can look up individual properties and answer questions, one-on-one," said Cave.
Cave says the county is sensitive to how the changes will affect property owners, especially those who may now find they must carry the additional federal flood insurance.
"We understand it is an impact for those who go into a more adverse flood zone. But we hope from a greater good that knowing your flood risk will help make better choices," he said.
In addition to more accurately designating the floodplain, the maps will be used to develop a more accurate flood warning system.
"One of FEMA's mandates was to make it a true risk-based map," says Cave. "So it will be used for other non-regulator purposes. For instances you can now not only see where the floodplain is but how deep the water might be.
"We are currently building a flood inundation map that will be tied to our flood warning system. It's still under way, but it will eventually become part of a much more advance flood warning website."