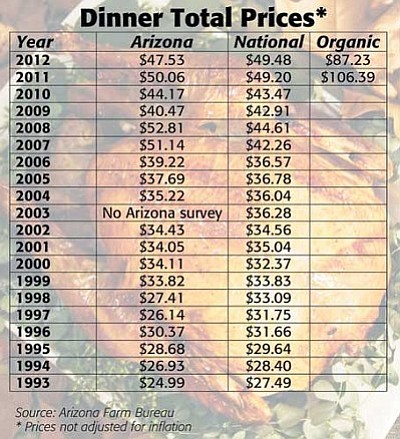 Originally Published: November 15, 2012 1:49 p.m.
PHOENIX -- Arizona consumers can give thanks for the fact that the grocery market in the state is so competitive.
New figures from the Arizona Farm Bureau show that the cost of a typical Thanksgiving dinner for a family of 10 this year will be $47.53. That is about $1.50 less than it was a year earlier.
It also is nearly $2 less than consumers nationwide are paying for the same items.
The real shocker this year is the sharp drop in the cost of preparing that same turkey-and-all-the-trimmings dinner using only organic products.
Last year going organic more than doubled the grocery store tab, topping $106.
Organic certainly remains more expensive. But the final tally for those same items will be less than $88.
"The Arizona retail market, it is so competitive,' said Peggy Jo Goodfellow of the Arizona Farm Bureau Federation which prepares the annual survey. And she said many more people are demanding organic products.
In some communities consumers have more options to shop around for the best price, with chains like Trader Joe's, Sprouts and Whole Foods each trying to carve out a niche in the market. The result, Goodfellow said, is these stores now have to be sure they are not being undersold.
For those not going the organic route, the list of items shows its normal year-to-year variance.
Turkeys, for example, are less expensive. So is milk and whipping cream even though Goodfellow said that farmers continue to cut the size of their herds to deal with higher feed prices because of the drought.
But that bag of cranberries for those who prefer to make their own sauce, versus the stuff that glops out of the can -- complete with the ridge lines intact -- will be paying a bit more. And produce prices also are up, so that relish tray of celery and carrots will take more out of the wallet.
Goodfellow said there are ways to save money and bring in the cost below the Farm Bureau survey.
She pointed out that the organization's volunteers base their reports on what is the list price of items, before any coupons -- and before any specials offered to those shoppers who carry their "affinity' cards.
For example, Safeway is offering free birds with certain minimum purchases. Other stores are likely to provide deals to lure shoppers into their doors.
She also said shoppers should not be fooled into believing that the more expensive name brand items are necessarily better.
"Store brands work just as well,' Goodfellow said. ``They're all pretty much packaged at the same location many times.'
Goodfellow said while this may be a typical list, it is not necessarily a recipe for a happy family.
"I go with what my family likes,' she said. ``You set it out there, you want them to eat it.'
But if you do have leftovers, Goodfellow said there are lots of recipes on the organization's web site "fillyourplate.org' for everything from sandwiches to quesadillas.
More like this story