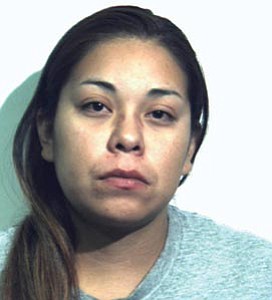 Originally Published: November 29, 2012 2:06 p.m.
CAMP VERDE -- A Clarkdale woman who attacked her live-in boyfriend in a domestic rage has entered a plea that will spare a court trial for attempted first-degree murder and four more felonies and a misdemeanor offense. Denelle Emily Lewis, 26, was arrested in early June charged with attacking her 29- year old live-in boyfriend with a butcher knife. The couple shared a home in the 900 block of Calle Tomallo in Clarkdale's Centerville subdivision.
The charges say that Richard McClure was stabbed in the head and slashed on the neck with the kitchen weapon.
First on the scene was a firefighter, who happened to be next door at the time and heard the brawl.
Lewis and McClure have three children. One of the original charges alleged Lewis also disturbed the peace of a 5-year-old daughter. The birth of the couple's third child, also a girl, was celebrated as the first child born in Cottonwood in 2010.
Last week, Lewis agreed to plead guilty to a single charge of aggravated assault with a deadly weapon, a class-3 felony. Judge Michael Bluff advised that during sentencing Lewis would face five to 15 years in prison and be responsible for up to $500,000 in restitution. Pending sentencing, Lewis is held without bail.
More like this story