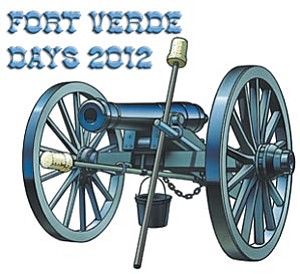 Originally Published: October 2, 2012 3:59 p.m.
CAMP VERDE - Unlike the name implies, the Colonel's Daughter is not a birthright.
It's a title bestowed on one young woman every year who demonstrates poise, personality and horsemanship, of a caliber that warrants being Camp Verde's official ambassador during Fort Verde Days.
But, if there was one contestant in this year's contest with a claim to the title based on heredity, it was Sharli Macdonald.
From her mother Michelle's side of the family, she is related to four previous winners including Wanda Jo Fuller, the pageant's first winner in 1960, Frances Murdock Reedy (1963), Gwena Reid Roberts (1967) and Melissa Murdock (1994).
And in 2005, her older sister Brittany won.
Last Sunday, Sharli Macdonald, a sophomore at Camp Verde High School, continued that family tradition, being named the 2012 Colonel's Daughter from among nine quite charming and equally cable riders.
"I was very, very surprised, but happy. It meant a lot to me and I am glad all my hard work paid off," said Sharli. "It was definitely special to win after three tries."
By wining, Sharli and Brittany become the first sisters to have ever won the title.
Sharli is the daughter of "Colonel" Justin Macdonald and "Colonel's Wife" Michelle Macdonald. The family manages the Ward Ranches, headquartered out of Camp Verde, where Sharli helps with ranch duties, as assigned.
"I have been riding horses as long as I can remember -- I'm told it started the day after I was brought home from the hospital," says Sharli.
She also competes as a member of the Arizona High School Rodeo Association in team roping, breakaway calf roping and goat tying.
The Colonel's Daughter serves as Camp Verde's Fort Verde Days ambassador, in the same capacity as a rodeo queen. The Camp Verde Cavalry, the organization that conducts the pageant, provides her escort during the parade.
The tradition was taken from a novel of the same name, written by Capt. Charles King in 1884, about the time King served at Fort Verde.
The book is loosely based on a young woman King met at Fort Verde, Carrie Wilkins, daughter of Lt. Col. John Wilkins, commander of the 8th Infantry.
More like this story