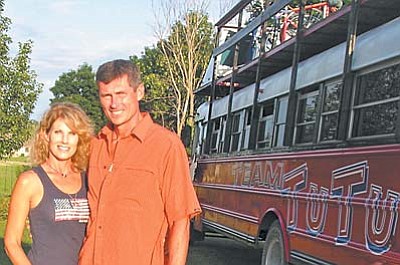 Originally Published: October 10, 2012 7:33 a.m.
COTTONWOOD - What do you do in Iowa during the last week of July - the week that Farmers' Almanac says is the hottest and most humid week of the year?
Well, if you're Rick Peterson, and up to as many as 30,000 other bikers, you head to Iowa where you dip the rear wheel of your bicycle into the Missouri River, then dip the front wheel into the Mississippi River. In between, you ride your bicycle approximately 500 miles across Iowa.
The ride is sponsored by the Des Moines Register Newspaper.
This was the 40th year for RAGBRAI (Register's Annual Great Bike Ride Across Iowa), and it was the 29th year for Rick Peterson to join the ride.
Rick is Vice President of Support Services for the Verde Valley Medical Center. He said that there have been some years when he hasn't done the full ride, depending upon his obligations. He may ride for three or four days then drop out. His wife, Lori, has done the ride for 15 years.
He said Lori would be the first to admit that she isn't an avid cyclist. But she enjoys the RAGBRAI.
"RAGBRAI is like a big family reunion to me," Lori said. "Though there are 15,000 plus bikers on the route, you see familiar faces year after year. It is fun to reconnect with friends that you have made and only see once a year.'
Lori said there is a sense of community associated with RAGBRAI.
Estimates put the number of people who ride annually in RAGBRAI as high as 30,000.
"Typically there is probably 15,000 riders a day," Rick said. "There is a lottery system to get accepted."
He said race officials try to limit the number of riders to 8,500, but they are never successful at keeping the numbers that low.
He said the ride is recognized as the oldest and largest weeklong ride anywhere. RAGBRAI follows a different route each year from west to east.
Rick said he was born and raised near Fort Dodge, Iowa. The reason he got involved in the annual ride is simple.
"I got into it because I like to ride a bike," he said.
"I've always enjoyed road cycling, and since moving to Arizona I got into mountain biking," Rick explained. "However life gets busy. Lori and I used to golf regularly, but there wasn't enough free time to do both, so I went with cycling."
He and Lori have been riding with a group during RAGBRAI for about 18 years.
"Our group is 20 to 25 people called Team Tu-Tu," he said.
The cover on the August issue of Midwest Living Magazine says, "... with food stands waiting at the end of every corn row, riders may actually finish heavier than they started."
The logistics of keeping yourself fed, even your group of 20 to 25 people, isn't as complicated as one might think.
"We don't cook, just snack," Rick said. "One of the highlights of the week is selecting from all the various food vendors." He confirmed that many riders do in fact gain some weight in spite of cycling 500 miles.
He explained that beside Team Tu-Tu, there is a well-known group of about 45 to 50 people called Team Gourmet. Their members are all chefs from around the country.
"Each day, a different group of chefs will skip the biking to drive ahead, buy groceries, and prepare a gourmet meal for approximately 80 people at their host's house," Rick said. "They not only serve their team and the host family and friends, but each day members will invite about 12 different people they meet while on the ride."
That group has become so popular with host families that each year, months ahead of the ride, each overnight community holds a charity auction to see who gets to be host to Team Gourmet.
"Typically the winning bid is over $2,000," Rick said. "And for that you get to open your house and yard up to 50 sweaty bikers."
Team Tu-Tu doesn't ride together as a group during the day, Rick explained.
"This would be difficult since we have riders of various cycling skills and fitness levels," he said.
But the group does keep track of one another.
"Once or twice a day we'll make plans to meet up somewhere in one of the pass-through towns with the bus," Rick said. "We'll wait for everyone to arrive to make sure that all is OK."
There are three days in RAGBRAI history that are particularly famous. Rick said the first one is called Soggy Monday, and it occurred in the early 1980s.
"The temperature stayed in the 40's all day with heavy rains," Rick said. He said no one is prepared for that kind of weather in late July in Iowa.
"Along the route hundreds of farmers just started loading bikes and bikers in livestock trailers and drove them to Lake City, the host town that night," Rick said. "Lake City's (population 2,000) campgrounds were flooded. Everyone in the town and surrounding area took riders into their homes."
He said that out of 10,000 to 12,000 people, almost no one had to overnight outside.
The second historic day was Saggy Thursday, a very humid day with 100-degree temperatures.
"The route was a very hilly 80 miles and straight into 30 to 35 mile per hour winds," Rick said.
He said the day got its name of Saggy Thursday because it was so hard to keep one's balance that riders looked like they were sagging instead of riding.
It was 1999 when the third historic day happened.
"For three days in a row the temperatures were 100 plus degrees and the mileage was right at 100 miles each day," Rick explained.
A week before the ride, a well-intentioned county road crew patched a 15-mile stretch of road. Unfortunately, the stuff they used to patch with turned to liquid, making a splashing sound as bikes passed through it.
"It stuck to your bike tires and if you tried to coast it would pull you to a slow stop," Rick said. "A lot of riders pulled over on the shoulder and the gravel stuck to their tires like a nut roll. When they tried to ride on the road the rocks quickly punctured their tires."
Rick said there are about a dozen bike shops that provide mobile service during the ride. They replaced more than 1,000 tires that day before they ran out of inventory.
"I borrowed a spoon from a local restaurant and spent a couple hours scraping the tar-like stuff off everyone in our group's tires," Rick said. "I got to keep the spoon."
Lori had a new bike that year, and, according to Rick, she still has a few tar spots on it.
After 40 years, RAGBRAI officials have the logistics of handling traffic and emergencies down pat, according to Rick.
"The Iowa Highway Patrol assigns about 20 officers to control the main highway intersections," Rick said. "The same group is on for the entire week, and many of them are veterans of as many RAGS as the riders."
He explained that ride officials contract with ambulance services to supplement local EMS services.
"On any day, the riders can stretch over 50 to 70 miles," Rick said. "So they space six to eight ambulances along the route to minimize response time."
He points out that with dehydration and heat exhaustion, July can take its toll on many riders.
"Hospitals along the route gear up for this and some of the larger hospitals around the state will actually offer to loan a smaller hospital staff for the day," Rick said.
"Our bus (for Team Tu-Tu) is well stocked with first-aid kits, and we have a couple nurses in our group," he said.
Rick said that probably because of RAGBRAI a real bike culture has developed in Iowa.
"On any weekend, there are rides all over the state that can attract 20 to over 1,000 riders, varying from competitions to just social events to a pub or Dairy Queen," he said.
"I hope to participate in many more, even though there's been a couple years that Lori and I have debated about not going," Rick said. "I know that RAGBRAI is a tradition that will continue indefinitely, even without the Register's organization or sponsorship. The last full week in July, thousands of riders would just show up and do their own thing."