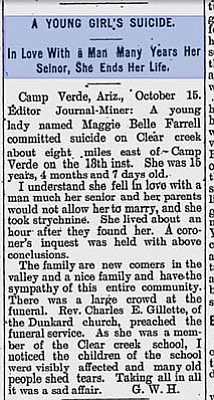 Originally Published: October 18, 2012 1:18 p.m.
CAMP VERDE - Historical inaccuracies have a way of haunting those who fail to do their homework.
Unsubstantiated rumors become fact. Dates and times become a mix of fact, fiction and wild guesses.
And, as in one recent incident, mistakes can end up carved in stone.
A few months ago the Questors, a group of local volunteers whose mission it is to preserve history, were asked to help the Clear Creek Cemetery Association commemorate what has long been believed to be the first person ever buried in the pioneer cemetery.
Her name was Maggie Farrell. Although the stories of her death have varied in recent years, they all pointed to a young woman who, at 15 years old, took her own life after being forced into a marriage she couldn't agree with.
As the prevailing story goes, Farrell ingested lye and suffered a long and painful death.
And every written account of the Clear Creek Cemetery has listed Farrell as the first person interred.
But the dates of her death and her actual age have varied according to the source. A 2010 newspaper article in the Bugle, reciting information from a previous newspaper article, noted she was 17 years old and died in 1868.
Camp Verde Historical Society files indicate she was 15 years old and died in 1884, an age and date supposedly confirmed by Sharlot Hall Museum.
Not wishing to question the information from CVHS, the Questors accepted 1884 as the date of her death and, subtracting 15 years, 1869 as the date of her birth.
They began inquiring about the cost of a headstone for Maggie Farrell.
When they asked Ben Bueler of Bueler's Mortuary, he readily agreed to have one made and donate it, along with its installation.
Last month Bueler made good on his offer, and a headstone for Maggie Farrell was placed above her final resting place. A dedication ceremony will take place at the Clear Creek Cemetery this Sunday, Oct. 20, at 11 a.m.
But in preparing an article about the ceremony, the Bugle revisited the death of Maggie Farrell (or should we say looked closely for the first time) and discovered some glaring inconsistencies with the story of a death, which has, over the years, taken on a life of its own.
According to Sharlot Hall Museum's online database of Yavapai County cemeteries, Maggie Belle Farrell was born on June 13, 1887, and died on Oct. 13, 1900. It would have made her 13 years old at the time of her untimely death.
As a reference, Sharlot Hall Museum cites an article published in the Jerome Mining News, dated Oct. 20, 1900.
A search for the article among digital copies of Jerome newspapers, on file with the Camp Verde Historical Society, came up empty. But an online search discovered an article published in the Arizona Weekly-Journal Miner on Oct. 24, 1900, regarding Farrell's death.
Written by George Washington Hance the article is headlined "A Young Girl's Suicide." It states that unlike the rumors circulating today, Farrell was not being forced into marriage but had been denied permission by her parents to marry a man "much her senior."
How senior or who he was, is not mentioned. But Hance, who served as the federal census enumerator for the valley for several decades, mentioned the Farrells were "new comers" to the valley and that Maggie was exactly 15 years, four months and 7 days old.
That would make her date of birth, June 13, 1885.
And she ingested strychnine, dying within an hour of being discovered, according to Hance, a fact he says was confirmed during a coroner's inquest.
However, the article published on Oct. 24, 1900, states it was written on the 15th and gives the date of her death as the 18th.
With most of the "facts" now in disarray and much yet to be discovered the question now is, what next?
"We took this on thinking we were doing a good thing," says Questor member and cemetery board member Brenda Hauser. "We are still going to dedicate the headstone. But we obviously need to work out what we can do to get the story right."
Questor President Candy Hammond agrees.
"If we are going to preserve history we have to do our due diligence," says Hammond, "That's our first responsibility. Then we will see what we can do about what's already been etched in stone."
Perhaps sometime in the not too distant future, after a little more due diligence, some historical conclusions will be drawn about Maggie Farrell, and the stories of her life and death can, once and for all, be put to rest.
More like this story