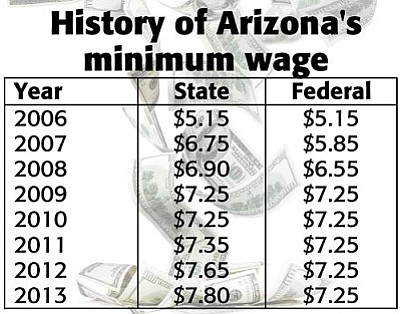 Originally Published: October 25, 2012 3:24 p.m.
PHOENIX -- Workers at the bottom of the state's pay scale will soon be able to afford two more gallons of milk and a loaf of bread a week.
The state Industrial Commission announced Friday that the new minimum wage for Arizona hourly employees will be $7.80 this coming year. That's up 15 cents an hour from the current level.
It also is 55 cents more than required under federal law.
Karen Axsom, director of the agency's labor department, said figures she has seen from the U.S. Bureau of Labor Statistics show about 5.6 percent of all employed Arizonans are at the minimum wage. Using the most recent employment numbers, that translates out to about 140,000 people.
But the new minimum could have a far larger ripple effect, as pushing up wages at the bottom could result in raises for those earning a little bit more.
The order comes from the state Industrial Commission which concluded that the cost of living in Arizona rose 1.7 percent between August 2011 and this past August.
Commissioners have that power -- in fact, that requirement -- because of a 2006 voter-approved initiative that created Arizona's first ever minimum wage. Before that, employers in the state were covered under the federal law which, at the time, allowed workers to be paid as little as $5.15 an hour.
That 2006 law specifically set the new Arizona minimum at $6.75 for 2007.
But Axsom pointed out that same law requires the commission to provide annual cost of living increases, computed according to the Consumer Price Index for urban areas.
That 1.7 percent hike, multiplied by last year's $7.65 minimum wage would compute out to an additional 13 cents. But the law requires the number to be rounded to the nearest nickel.
Hence that 15 cent hike -- or $6 a week, before taxes, for someone working full time.
The federal minimum wage remains at $7.25 until adjusted by Congress.
Employees who earn tips -- and can legally be paid less than the minimum wage -- also could benefit from the commission's action.
Axsom said that $7.80 figure technically will apply in January to those people, too. But employers can claim a $3 an hour "tip credit,' meaning they will be able to put just $4.80 an hour into paychecks.
He said, though, that requires proof that the employees are, in fact, bringing in at least $3 an hour in tips.
The 2006 law has proven particularly unpopular with some elements of the business community, notably the restaurant industry.
Earlier this year, House Majority Leader Steve Court, R-Mesa, sponsored a proposal to ask voters to repeal the measure. He said the law is forcing companies to give raises to employees "when their business is down.'
Court ultimately pulled the plug after he said polling by the restaurant industry showed the measure would be defeated by voters. But that may not be the last word: Steve Chucri, president of the Arizona Restaurant Association, said his industry and others with minimum-wage workers, like hotels and motels, are instead focusing on a 2014 ballot fight.