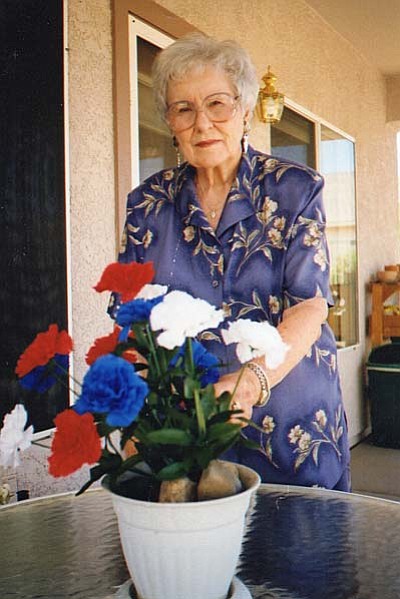 Originally Published: September 22, 2012 1:05 p.m.
Donna Simmons Lucas passed away peacefully on September 14, 2012, just two days after her 90th birthday. Donna was born in 1922 in Ontario, California and after the death of her mother when she was two, was raised by her grandmother and aunt.
She loved to play baseball and there were many times when she wasn't home from school on time and her grandmother had to go searching for her only to find her engaged in an impromptu game some kids had organized after school.
She married her first husband, James Simmons when she was 18 years old. Together they had three children. They owned a pavement cutting company located in Paramount, California where Donna ran the office. They also became avid golfers and had a membership at the Los Coyotes Country Club in Buena Vista, California. After they retired, they relocated to Paso Robles, California. James (Jim) died in 1981 and Donna lived on her own in Paso Robles and worked at the Style Center, a women's clothing boutique, in downtown Paso Robles.
In 1989 she met and was shortly thereafter married to Lt. Col. Richard Lucas (ret) and relocated to Sedona, Arizona. She and Richard traveled extensively. After a lifetime of a fear of flying she truly enjoyed flying in his personal biplane, as well as flying commercially all over the United States.
Donna is survived by her husband, Richard Lucas and his daughter Linda Shosted. She is also survived by her three children, Sharon Simmons, Donald Simmons and his wife Jacquie, and Melinda Simmons in addition to her 7 grandchildren, 12 great-grandchilden and 1 great greatgrandchild.
Services are being held in Paso Robles, California.
An online guestbook is available to sign at www.westcottfuneralhome.com.
Information provided by survivors.
More like this story