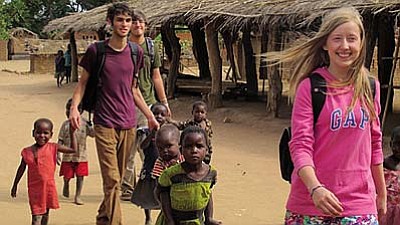 Originally Published: April 6, 2013 1:01 p.m.
Cottonwood Legion Nominations & Election
April 8
Nominations of officers for the Cottonwood Legion will occur at the General Meeting beginning at 4 p.m.. and voting will be from 10 a.m. to 3:30 p.m.. on May13. All members are urged to participate.
Jeff Anderson in free concert
April 11
Vineyard Christian Fellowship of Cottonwood will host a free concert with Jeff Anderson at 6:30 p.m. on Thursday. The Vineyard (634-2459) is located at 3605 Zalesky Road, Cottonwood (Hwy 89A & Zalesky Road). Jeff is a singer-songwriter, worship leader and a national recording artist from Columbus, Ohio.
Jeff will also be at the Camp Verde Calvary Chapel (567-2171) at 7 p.m. on Friday, April 12.
Quail Country Quilters
April 11
Quail Country Quilters will begin with a business meeting, followed by Mary Dyer featuring "Tips, Tricks, and Tools," with a trunk show and lecture. They meet on the second and fourth Thursdays at 9 a.m. at the VFW Post, 705 E. Aspen in Cottonwood. Visitors are encouraged and always welcome! Any questions, call Bev at 634-9411.
Volunteers needed at Connections Equine Therapy
Connections Equine Therapy is a non-profit organization located in Cornville, AZ offering therapeutic riding and other services designed to improve the health and well-being of individuals with physical, behavioral, developmental or cognitive challenges. Many of our volunteers are only part-time residents and will soon be leaving for the summer. We need people to help with horse care and to assist with clients. Training provided.
• Must be physically fit
• At least one A.M shift or one P.M shift per week
• 8 week commitment required
For further information call Connie at (928) 639-4223 or the Connections office at 928-639-0791 or email connections@commspeed.net.
Friday Night Dances with High Desert Kickers
April 12
The High Desert Kickers would like to invite everyone to the next once-a-month Friday night dance at the Cottonwood Civic Center building on Main St. in Old Town. The time is 7 to 9:45 p.m. Cost is $5 per person.
Both line and couples dancers are welcome. If you are interested in observing the dancers but are not yet ready to participate please come and watch. There is no charge for non-participants. For more information call Kent at (928) 202-1603 or Jean at (928) 567-5874.
Oral History of the Yavapai
April 13
The Yavapai-Apache Nation Cultural Resource Center will host Carolina Butler, editor, of a new book, "Oral History of the Yavapai," as she presents its highlights at 2 p.m. on Saturday at 360 E. Middle Verde Road (at the turn to Montezuma Castle).
The book is based on interviews by Dr. Sigrid Khera, anthropologist, of two elders of the Yavapai tribe, Mike Harrison and John Williams, whose grandparents lived through the violent upheavals of the Yavapai in the 1870s. Each spent parts of their lives in the Verde Valley.
Butler will be giving a short presentation on the background of the book, followed by a book signing. Refreshments will be served. For more information, call (928) 649-6961 or website http://oralhistoryoftheyavapai.com/OralHistory/Welcome.html.
Vectors of Autism film screened at VVMC
April 13
The NAH Education Department is sponsoring a free film showing, Vectors of Autism - Living with Autism. The 50-minute documentary will be shown at 3 p.m., Saturday, in VVMC's Conference Room B. The film won the "Heart of the Festival Award" at the 2013 Sedona International Film Festival.
The film is about being an adult with autism in a world that is definitely not autistic. Laura Nagle is a 57-year-old woman who has much to say about autism and the influence autism has had on her life. Following the film, there will be time for discussion with Laura Nagle and producer Susan Marks. No RSVP required.
Cheryl Kasdorf to speak at fibro support meeting
April 13
Fibromyalgia/Arthritis & Related Diseases Support Group will meet at 10 a.m., Saturday, in Conference Room A at the Verde Valley Medical Center. Please enter through the main entrance and walk through to the conference rooms. Cottonwood Naturopathic Physician Dr. Cheryl Kasdorf will discuss "Is Your Thyroid Doing Its Job?" for your health in terms of energy and muscle and joint pain as well as how specific treatments can help you. Following Dr. Kasdorf's presentation we will have time for sharing. Questions? Call Bea at 649-3465.
Blood drive at MUHS
April 15-16
Mingus Union High School is hosting a two-day Blood Drive in the Small Gym on Monday from noon to 5 p.m., and Tuesday from 9 a.m. to 1 p.m. Please come out and support our blood drive. Every time someone donates you save three lives.
Chanting from the Torah
April 16
Tuesday at 1:30, Rabbi Alicia Magal begins a new course of study on chanting from the Torah. This system of "trop" gives an additional layer of meaning and emphasis to the holy words of the Torah. Requirement is an ability to decode Hebrew and an interest in learning to chant. The Jewish Community of Sedona and the Verde Valley is at 100 Meadowlark Drive, Sedona. For more information call the office at 928 204-1286 or visit www.jcsvv.org.
Communication skills improvement
April 20
Dr. Marta Adelsman, life coach in communication and consciousness, offers the class "Awake & Aware Class: Navigating Communication Clashes" on Saturday from 1 to 2:15 p.m. When people blame and criticize you, attack you, disagree with you, tell you what to do, or withdraw from you, how do you handle it? Come to this class to learn general principles and receive specific coaching about how to deal with these situations successfully. Jerona Java Café, Cottonwood. $10 per person. Pre-registration requested. Call (928) 451-9482 or email drmartacoach@gmail.com.
Sock Hop at the Legion
April 20
The American Legion Post 93 Auxiliary in Camp Verde will be hosting a Sock Hop
on Saturday from 6 to 9 p.m. with hamburgers and fries and great music by American Recording Artist Tony 'K'. Dance contest with great prizes.
And don't forget the raffle for two coach tickets on the Grand Canyon Railway! For more info. contact Debbie Moore at (928) 274-2732.
St. Joseph's Catholic School Golf Outing
April 27
St. Joseph's Catholic School will have its annual golf outing at the Verde Santa Fe
Golf Club, 645 S. Verde Santa Fe, Cornville. Cost is $100 per player and includes 18 holes of golf, lunch, raffle items, prizes and awards. Registration begins at 7:30 a.m.; tee off at 9.
There will be a Putting Contest, Longest Drive Contest, Closest to the Pin, Longest Putt and the Hole-in-One. To Register, contact St. Joseph's School, 2715 E. 89A, Cottonwood, at (928) 649-0624. Also visit www.sjcms.net.
Boomers and Beyond, Creating A New Paradigm
April 27
"Boomers and Beyond, Creating A New Paradigm" is the name of the fourth annual conference presented by the Sedona Sunrise Center for Adults, the Sedona Community Center and the Sedona YMCA on Saturday from 9 a.m. to 3:30 p.m. at the Sedona YMCA (former Teen Center), 525-B Posse Grounds Road, in Sedona. Attendees will be introduced to amazing tips on positive aging as well as learning about the latest research on age-related conditions and how to enter into this new phase of life with excitement and anticipation.
Presenters include Dennis Garvey, Elizabeth McFarland, JD, John Tamiazzo, PhD, Kevin Doyle, MD, Ann Snowden and Carol Oveross. Cost for the day is $59 per person, $69 at the door. Registration forms can be found on the Sedona Sunrise Center website: sedonasunrisecenter.org click on Conferences. For information, call John Tamiazzo (928) 282-2834 or Linda Yee 282-8969.
Go Blue for CASA Month
April
Verde Valley CASA® Children's Foundation, a dba of CASA® Children's Center, Inc., announces that the month of April will be "Go Blue for CASA® Month" as April is the "National Child Abuse Prevention Month." The mission of this Foundation is to "enhance the lives of children, who are wards of the Court, throughout our Greater Verde Valley."
If you are interested in becoming a CASA volunteer, you can contact Mike Wade, the Court CASA Coordinator for the Verde Valley, at mwade@courts.az.gov or call the Verde Valley CASA office in Camp Verde at (928) 554-8903.
2013 Author's Forum at Cottonwood Library
May 4
The Cottonwood Public Library presents the 2013 Author's Forum! From 11 a.m. to 1 p.m. on Saturday. Twenty-nine Verde Valley authors will convene in various areas of the library to chat with you about their books and themselves. The forum showcases the diverse literary talents available to us right in our own backyard.
The authors' books will be available for purchase and the authors will be on hand to personally sign your copy of their book. You can find participating authors by going to the library web site at www.ctwpl.info, click on About Us, scroll down to Newsletters, then click on 2nd quarter under the heading 2013.
The library is located at 100 S. Sixth St. in Cottonwood. Call (928) 340-2785 for more information.
Letter Carriers' Food Drive
May 11
Old Town Mission is again hosting a Letter Carriers' Food Drive. Volunteers are needed to help collect food by following a mail carrier and picking up the food left at the mail boxes. Volunteers are also needed to help sort and weigh food at the Mission. If you would like to volunteer please contact Kellie (928) 634-7869.
Jackie Bristow in House Concert
May 18
The next Clarkdale House Concert will be at 7 p.m. and feature Kiwi singer-songwriter Jackie Bristow. Originally from New Zealand, Jackie now makes her home in the United States and has been touring her new homeland pretty much continuously, making new fans at each stop along the way.
She will also be featuring a well known Australian singer-songwriter and guitarist named Mark Punch, who in January 2012 was named 2011's Musician of the Year by the Country Music Association of Australia.
Cost is a $15 donation in advance. The address for the concert, and to which your donations can be sent is: John Kinnamon / Trisha Travis, 560 Rancho Villa Lane, Clarkdale AZ 86324.
Film Festival comes to Jerome
June 13-16
A new event, the Jerome Indie Film & Music Festival, is set for June, with venues in the Bartlett Hotel, Spook Hall, the Asylum, the Upper Park and the Fire Department. Bands will play in the Upper Park.
There will also be wine tastings, panel discussions, workshops, a masquerade party and award ceremony. For information contact Toni Ross at tonir66@live.com.
More like this story