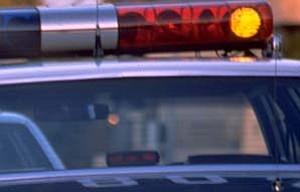 Originally Published: April 11, 2013 8:34 a.m.
A vehicle that caught a deputy's attention for not stopping at a stop sign turned out to be stolen from its Flagstaff owner.
On March 27, at 2:30 a.m., a Yavapai County Sheriff's Office deputy saw a green Ford Expedition fail to come to a complete stop while exiting the Interstate 17 southbound off-ramp at Highway 179. The vehicle turned onto State Route 179 and sped up quickly.
The deputy continued to follow as the vehicle began weaving while speeding up and slowing down for no apparent reason. The deputy was able to have YCSO dispatch check the plate number which returned with no alerts to an owner in Flagstaff.
The deputy initiated a traffic stop and the vehicle finally pulled over near milepost 302. As the deputy approached the vehicle, he saw three occupants who were all wearing hooded sweatshirts with the hoods pulled over their heads.
As he reached proximity of the vehicle, it suddenly drove away at high speed. The deputy began a vehicle pursuit which lasted about half a mile. At that point, the vehicle left the roadway, and traveled cross country until becoming stuck on the side of a hill. The driver and two occupants exited and ran north from the vehicle.
Deputies checked the area but could not locate the suspects at that time.
Flagstaff Police officers contacted the registered owner who was not aware her vehicle had been stolen and signed a stolen vehicle affidavit. During a check of the vehicle's contents, the deputy located a cell phone and eventually determined the phone belonged to a high school student from Coconino County whom the deputy identified by name. This information was relayed to the Flagstaff police for follow-up. Within a few days, the suspect was located by Flagstaff officers, arrested, and has since been charged with this vehicle theft.
Flagstaff Police are currently investigating the auto theft suspect and associated individuals for involvement in multiple burglaries in their jurisdiction as a result of the YCSO investigation.
More like this story