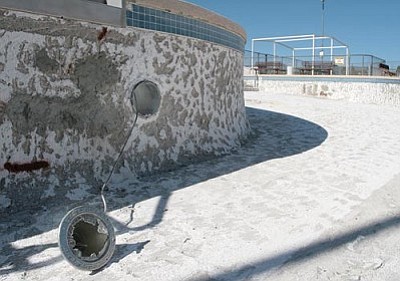 Originally Published: April 15, 2013 5:55 p.m.
CAMP VERDE - Camp Verde Parks and Building Maintenance crew discovered Monday morning that vandals had destroyed four underwater lights in the Camp Verde Heritage Pool. Mike Dumas, Parks and Building Maintenance foreman for the Town of Camp Verde, says he believes the lights were vandalized this past weekend.
According to Dumas, the lights had been set atop the pool, while the pool waits to be resurfaced for its reopening Memorial Day weekend. The lights are now smashed, setting on the bottom of the empty pool.
Dumas says he is not sure whether the lights can be repaired or replaced. "It depends on the availability of parts," Dumas says. "The lights are old, approximately 15 years old."
Dumas also says it will take a few days to confirm the severity of the damage. "We're going to get with the contractors," says Dumas, who estimated that the lights would cost $8,000 to replace. It's going to be labor-intensive, and the lights are expensive.
"Vandalism costs everyone in this town money," Dumas said. "Lots of people like to use this pool. That's why we're doing the upgrades that we are doing [to re-open the pool]."
Dumas says that the pool is vandalized from time to time, but did not recall a time when the repairs had cost a significant amount of money.
"The timing is terrible," says Ron Long, Public Works director for the Town of Camp Verde. "We've been working hard to get the pool remodeled. It is senseless destruction."