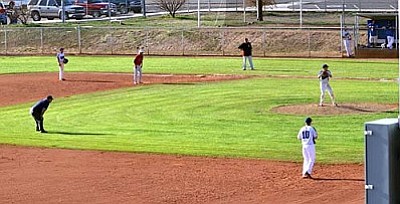 Originally Published: April 18, 2013 1:37 p.m.
Sitting on the cusp of a playoff berth, the Camp Verde baseball team has four games remaining to secure its spot in the top-24 and travel to the Surprise Sports Complex for the Division-III baseball tournament.
In their most recent outing, the Cowboys ventured to Prescott and squared off against the Badgers, dropping the game 19-4.
For the first two innings, the boys were right there with Prescott, only trailing by three runs. In the third, the Cowboys scored another run, bringing them within striking distance of the Badgers.
When Prescott stepped up to the plate, they rattled off 13 runs, putting Camp Verde out of range and essentially icing the game.
One of the factors that hindered Camp Verde during that inning was the win. As Davis put it, the wind would blow the pop flies all over the place and made it difficult for the boys to secure outs.
"We just didn't get an out," said head coach Will Davis. "The wind was blowing so hard, it was just one of those games, mostly wind related in that inning. They hit pop flies, blowing from one side to another, it was just crazy."
To add to that, the boys were on a tough stretch that included four games in six days, with only one day of rest in between games one and two, and two days in between three and four. The schedule began with a 10-0 win over Northland Prep, and was followed by a loss to Sedona Red Rock. The Cowboys had followed that loss up by upsetting the Mingus Union Marauders. Despite the upset, pitchers Jesse Fullbright and Taylor Hicks were noticeably fatigued due to the stretch and being the only two eligible pitchers for Camp Verde.
"It was too many games in too many days for a team that has two eligible pitchers. Some guys will try," Davis said. "[It was] just one of those days where we didn't have the arms to match up [with Prescott]. We kind of figured that was going to be the case, playing Thursday, Friday, Saturday and again on Tuesday. But with Taylor and Jesse being our only pitchers, Doug is ineligible right now. We were just out of pitchers."
This fatigue came back to bite the Cowboys against the Badgers. They were forced to throw Ezra Church and Heath Carroll, who have little pitching time so far this season. Taylor did pitch the majority of the game, but could not pitch how he had in the past, finishing with a 27.00 ERA through two innings and one out.
Heath pitched two outs, which was his first appearance on the mound this season. Through the two outs, the senior allowed five hits for five runs (two earned) and threw one walk against eight batters. Ezra lasted one out and allowed one run on two hits with two walked batters in the sophomore's second appearance of the year. Both players ended with a 21.00 ERA
Taylor's pitches were hit 10 times, leading to 13 runs, nine earned and two walks. None of Camp Verde's pitchers recorded a strikeout for the game.
"We were really out of pitching so I had to throw some young guys, I got guys with sore arms," Davis said. "It was obvious early that we didn't have the pitching to match up. I think that effected every ones play somewhat."
Offensively, the Cowboys were right there with the Badgers. They tallied 10 hits, with Jesse going 3-for-3 at the plate with a double and a RBI. Heath was the only other player for Camp Verde to bring a runner in, and he went 1-for-2 while at bat.
Austin Stutzman finished with a .667 batting average and Logan Conrad and Tyler Pennington both notched a .500 batting average.
The Cowboys will have a few days of rest before their next games, a double-header against Mayer High School on April 19. To save his pitchers arms, Davis said he would be throwing younger players and players who have not seen to much action from the mound.
"Both guys should be good for the Mayer games, I would imagine," Davis said. "They probably wont throw much in those games. Those are games we should be able to get away with other pitchers. Hopefully they will both be ready to go for Payson next Tuesday, that's the big one. Our season's going to be riding on that one."
Four days after those games, the Cowboys travel to Payson in what could be the most important game of the season, with regards to going to the playoffs.
"We'll be right there, and if we beat Payson, that's the game. The other games don't give us a lot of bonus points and neither does Sedona, because they have so many lack of wins, that beating those teams don't really jump you up that high, but if we get Payson, that should definitely lock us in," Davis said.