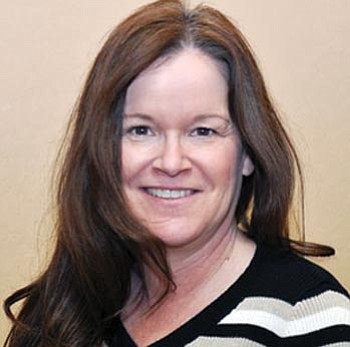 Originally Published: April 18, 2013 2:01 p.m.
CHINO VALLEY - The Chino Valley Area Chamber of Commerce will welcome a new director on April 22.
Tracie Schimikowsky will fill the vacancy left when former Chamber Director Ab Jackson resigned in October 2012 to take a position at the Surprise, Ariz., Regional Chamber of Commerce.
Schimikowsky hails from nearby - while born in Texas, she spent 30 years in the Verde Valley, moving there at age 14 by way of Columbus, Ohio.
"I was a freshman in high school," she said, "not a fun time to move across country!"
She graduated from Mingus Union High School in 1982 and then attended college in Waxahachie, Texas. The difficult job market drove her to California where she worked in corporate banking for five years.
While she appreciated the skills she learned in banking, Schimikowsky said she didn't realize how much she really liked interacting with people until she returned to Arizona in 1995 and entered the resort hospitality industry. She worked at two large resorts in Sedona, one with 250 employees and another with 500 employees. She also worked with independent contractors, all skills she uses today in the chamber industry.
Schimikowsky entered chamber work after taking some time off to see her children through high school. She started as an executive assistant at the Camp Verde Chamber, and worked her way up to CEO. The position was eliminated last June when the chamber and town parted ways, she said.
When that happened, she stepped into a caregivers' organization in the Verde Valley, where she was operations and mobility manager. But Schimikowsky was hooked by then on chamber service.
"I was sitting in the Cottonwood Chamber, talking about a variety of things, and saying that I really missed the chamber industry, when I heard the Chino Valley Chamber was looking for a director of operations," she said.
Schimikowsky said she is eager to get to know the Chino Valley community, and her first impressions of her new hometown are favorable. She said she will depend on chamber volunteers and community members to bring her up to speed.
"This community seems very engaged and people get along with each other," she said.
One example is what she saw at her first chamber monthly luncheon this past Wednesday.
"You don't see that a lot (in other places), businesses supporting each other," she said.
Schimikowsky said she thinks it's important to provide a way for local graduates to stay here and make a living in the community.
"It can be a challenge to keep our youth here when there are no opportunities or the opportunities are not their interests. One thing is that they might consider living in Chino Valley and working in another community until what they're looking for does exist here. They do come back. I did, and it's home and a familiar feeling."
She also would like to start a youth intern program at the chamber.
"I worked with youth at the Camp Verde Chamber. Board members wanted the chamber to get more involved with education, so we established a student intern program. Students came and volunteered or earned credits. It helped to build their resumes and helped them understand their community and chamber. It gave them people skills they may not get (otherwise)," she said. "I see that as an option for this chamber, whether it's high school or college students, it works great. Our youth are our future, and they need to understand the importance of community and working together."
In her spare time, Schimikowsky likes to spend time with her 24-year-old daughter and her son, 27, along with her 1-year-old grandson. She also enjoys reading, caring for her houseplants, and exploring "when it's not cold and windy!"
When she comes on staff April 22, Schimikowsky said she'll be back and forth across the mountain until she sells her home in Camp Verde. But she's looking forward to her new place in the Chino Valley community.
"There are a lot of fun activities here. That's what it's about, networking and building a strong local economy."
More like this story