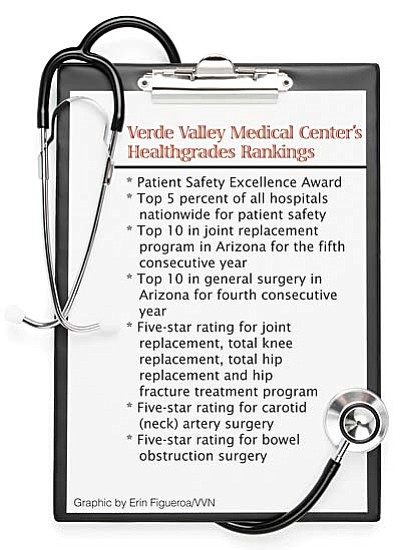 Originally Published: August 1, 2013 3:31 p.m.
Colorado-based Healthgrades presented Verde Valley Medical Center with a patient safety excellence award Tuesday.
About 40 hospital employees gathered in a VVMC lobby to watch Healthgrades' Sharon Razo present the award to hospital interim president and CEO Barbara Dember.
The hospital has earned the award five years running, and this year paid $39,000 in licensing fees to Healthgrades in order to receive the physical award, hold the press conference and advertise the accolades to the public using the company's official logo. 
The hospital was unaware VVMC had earned the award in years past, and the consecutive wins show patient safety is part of the culture at the hospital, Dember said. 
"I really wanted for our staff this year to really have that moment in the sunshine to really be able to shout it from the rooftops that what we're doing here is unique and special," she said. 
The private company ranks thousands of doctors and hospitals in the country based on patient feedback and procedure outcomes as reported in Medicare discharges. 
This year's 379 patient safety awards were given based on data from 2009 to 2011 that show hospitals have safeguards in place to prevent complications like avoidable falls and postoperative infections. 
Dember said the Medicare data used to evaluate hospitals is reflective of the hospital population, 75 percent of which is made up of Medicare and Medicaid patients. 
The company also offers consulting services to hospitals looking to earn a Healthgrades award, which Dember said VVMC doesn't use or need.
"I did work for a hospital once that did use their consulting services and it's because we wanted to win the award and we never did, and so it was like, 'OK, help us, show us where we're missing it, show us what you're looking at that we're maybe not seeing,'" she said. 
Cottonwood Mayor Diane Joens attended the event to read an official proclamation that VVMC Marketing Manager Trista MacVittie helped write. The proclamation recognized and thanked the hospital for its contributions to the community. 
Joens said she had personally been helped by the hospital. Her husband received treatment from VVMC's cancer and vascular centers.
"He's out working in the hot sun again and it's just unbelievable the progress that he's made," Joens said.
VVMC Marketing Director Janet Dean said the hospital paid the $39,000 licensing fees so that the community could "truly understand and know the level of quality of care at VVMC."
Greg Vigdor, spokesman for the advocacy group Arizona Hospital and Healthcare Association, said awards can help small, rural health care facilities dispel the notion that bigger is better.
"Like most things, trying to change the ability to celebrate success is a huge part of building momentum," Vigdor said.