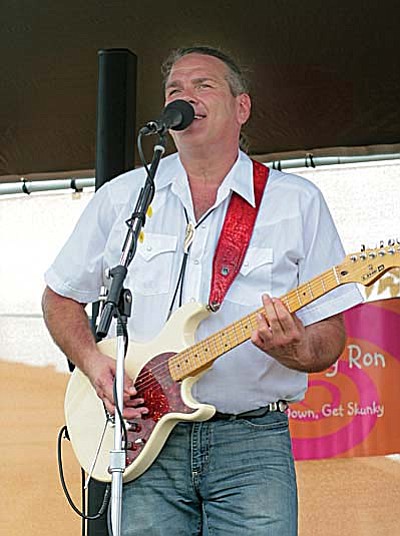 Originally Published: August 3, 2013 2:16 p.m.
CAMP VERDE - Camp Verde resident "Skunky" Ron started his musical career as a drummer. He was 5. As a child, Ron's idea of percussion was cardboard boxes and sticks.
"My cousin was older than me," Ron says. "He was playing guitar first. That's when I started drumming. Then, my parents got me guitar lessons at 9."
Ron says that playing in the church band was the first time he played in front of people. Later, he played in garage bands.
Eventually, he stopped playing music, for close to 10 years.
In 1991, while living on the east coast, Ron went back to school to become a Registered Nurse. But he needed a part-time job to pay for his training. So Ron returned to his love of music, playing in a country band, he says, because "they had the money."
Now 54, Ron considers himself a semi-retired RN, and says he picks up the occasional nursing shift when needed. But his musical career has taken on a whole new personality since arriving to the Verde Valley in December 2010. Ron calls his musical style Skunkabilly, which he defines as a rhythmic, dynamic guitar style that combines his experiences playing guitar, bass and drums, "to make a danceable, solid sound that most musicians can't achieve without electronic assistance."
"I call it Skunkabilly because it's kind of trashy," Ron says. "It's so different than anything else. Nobody else is doing it. It's real percussive, real rhythmic. It makes people want to dance."
On the day of a show, Ron makes sure to rehearse any new material he may be working into the musical set.
"I hate to use cheat sheets," he says, "so I review the songs at home."
Rather than playing multiple guitars in a show, Ron puts new strings on one guitar prior to his show.
"I make it look easy," Ron says. "But I'm playing the crap out of my guitar. If I try to play it a second consecutive show without changing the strings, I will break them."
Unlike some performers who seem to have more anecdotes than music, Ron lets the music "speak for itself. Once in awhile, I have something to say, but usually, I don't waste a lot of time in between songs."
That tendency to listen, rather than talk, is what allows Ron to get a feel for what his audience wants to hear.
"I'm really good at reading a crowd," Ron says. "Sometimes, I go in planning to rock out, and then I end up doing a whole country set. I suppose people like [my music] because they don't come up and tell me what to play. I just like to provide a good-time atmosphere wherever I go. For now, it's about me having fun and the audience having fun."