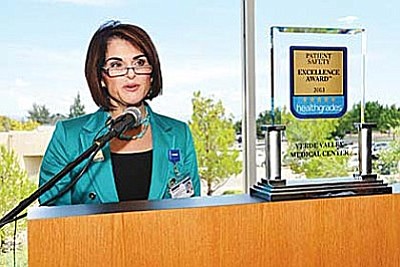 Originally Published: August 3, 2013 2:23 p.m.
It is a week for report cards in the Verde Valley.
First, kudos to Verde Valley Medical Center for the avalanche of accolades it received from the Healthgrades organization.
VVMC has won the Healthgrades patient safety excellence award five years running.
This latest recognition from the Colorado-based medical care analysis organization follows earlier honors VVMC received from the Leapfrog Group, U.S. News and World Report, Professional Research Consultants, Modern Healthcare, American Heart Association, Becker's Hospital Review, and the Amerinet Healthcare Achievement Awards.
In the education arena, this was also the week the Arizona Department of Education released its annual school report cards.
Across the board, it was a good year for Verde Valley schools. Some could have done better, others held steady and some showed marked improvement from a year ago.
Four area schools received an "A" grade in the newest analysis, 9 received a "B" and 6 earned a "C."
District-wise, the Beaver Creek District received a "C" and Clarkdale-Jerome, Cottonwood-Oak Creek, Mingus Union, Camp Verde Unified and Sedona-Red Rock Unified all received a "B" grade.
Finally, this was the week the Verde Independent/Camp Verde Bugle/Kudos announced its annual "Readers' Choice" awards.
As a point of clarification, these really are not "our" awards, but those decided upon by our readers. This year, we gave out 367 total awards in the Verde Valley and Sedona in categories ranging from best pizza to best tourist attraction.
In the 10 years Verde Valley Newspapers, Inc., has had this contest, we have given out more than 3,000 Readers' Choice awards.
This week, and every week for that matter, there are a lot of winners in the Verde Valley.
Congratulations to all of you.
More like this story