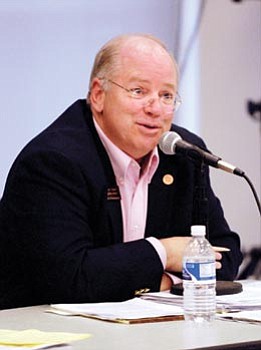 Originally Published: August 8, 2013 1:22 p.m.
Arizona House Speaker Andy Tobin is drafting bills to help the families of the 19 fallen Granite Mountain Hotshots.
One draft bill would provide full-time employee benefits to the Granite Mountain Hotshot crew members from the Prescott Fire Department who died battling the Yarnell Hill wildfire about 20 miles south of Prescott on June 30. Thirteen of the deceased hotshots were seasonal workers so their families don't get any benefits such as health care.
The draft bill grants full-time state employee benefits to any first responder who dies on state lands. The Granite Mountain Hotshots died on state trust lands. The bill is retroactive to June 30.
"I think this was a wake-up call to a lot of folks," said Tobin, whose district includes Prescott. Part-time employees are more and more common.
"To be putting your life on the line for part-time survivor benefits is not what I consider appropriate when people are defending the citizens of Arizona, particularly on state land," he said.
A second draft bill would have the state cover the city's retirement benefits related to the deaths under the Public Safety Personnel Retirement System. Tobin reiterated that the men died on state trust land, and providing such benefits is a huge hit to a city the size of Prescott.
The third draft bill seeks to allow the state government to acquire the site from the State Land Department where the hotshots died, either through an appropriation or fundraising activities since the Constitution doesn't allow the Land Department to give the land away.
That bill also would allow the state to negotiate with landowners for public access to the site.
"To me, that's now sacred ground important to the firefighters' families as well as all of Arizona," Tobin said. "It should be protected and remembered."
Tobin doesn't have any fiscal impact estimates for the bills yet and he doesn't have final drafts.
He said he'll likely wait until the regular legislative session begins in January to introduce the bills, unless there is an immediate need to try to get a special session.
He said Tuesday that Senate President Andy Biggs has been supportive. He planned to talk to House Minority Leader Chad Campbell later Tuesday.
Tobin is well aware of the now-public debate between Prescott officials and the family of fallen firefighter Andrew Ashcraft over city government benefits.
"What I'm working on here helps both the family and the city, and maybe this is what they'll turn their attention to," he said.