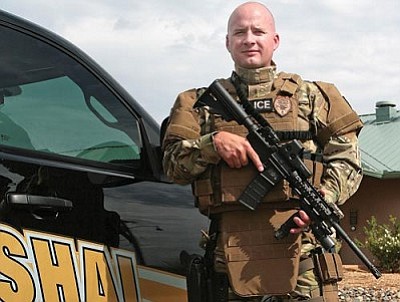 Originally Published: August 10, 2013 2:17 p.m.
VERDE VALLEY - Deputy Steve McClure of the Camp Verde Marshal's Office functions better when he is under stress.
So it would make sense that he is also a member of the Verde Valley Regional SWAT Team.
SWAT, which stands for Special Weapons and Tactics, is a law enforcement unit that uses military-style weapons and specific tactics in high-risk operations beyond the capabilities of conventional police.
The team consists of members from four local agencies: CVMO, Yavapai-Apache Police Department, Cottonwood Police Department and Sedona Police Department, with about 20 members, including snipers/observers, negotiators, and operators.
The Verde Valley Regional SWAT Team was established in 2004. At that time, the equipment that the officers used was either donated or purchased out of their own pockets. With the recognized need for the tactical unit, the SWAT team now has a limited operating budget that helps keep members safe.
Sgt. Kevin Murie of the Cottonwood Police Department is the SWAT Team Leader. Murie has worked with McClure since November 2012 when McClure applied to join SWAT. Murie was involved in McClure's interview process.
"Deputy McClure stood out because he is in great physical shape and was able to focus and answer the questions without hesitation, and the answers he gave were well thought out and accurate to his best ability," Murie said.
According to Murie, the SWAT testing process consists of a physical fitness assessment that incorporates several different tasks, such as dragging a 200-pound dummy, jumping a six-foot wall multiple times, conducting a low crawl for a short distance, carrying a shield for a designated distance, and finally hitting a ram door, all while running a lap in between each task, for an approximate course distance of one mile.
As soon as the applicants are finished running, they immediately go into an oral board interview. Applicants interview with no rest because SWAT needs to gauge their focus and decision-making skills when stressed and tired.
Once selected to be on the SWAT team, members maintain about 20 hours of training each month. McClure said there were many reasons he wanted to be part of SWAT.
"I do well with the training," McClure said. "You can't beat it. We train with a lot of agencies. I'm not one of the ex-jocks or one of the guys who wants to knock down doors. But SWAT is a good fit for me. I like the work. I enjoy being part of the team. It's all part of law enforcement. The job is a great job. And it's a good group of guys on the team. You learn a lot more regarding tactics and safety. And I'm able to share all of that with the guys here [at CVMO]."
According to team member Jon Huey, strong social skills are important for a SWAT officer.
"He's a good motivator," said Huey, who has been with YAPD for 12 years, and for close to two years as sergeant. "He's very easy to get along with. Trust is a big issue with SWAT. If your personality is not a good fit, they can cut you."
"Deputy McClure is a great SWAT operator and is very eager to learn new things, which is important in a high stress and high liability area such as SWAT," Murie said. "It's a pleasure to have Deputy McClure as a very big part of this team."
According to CVMO Marshal Nancy Gardner, McClure's training with SWAT brings something special to CVMO.
"We're very proud of the work he's done," Gardner said. "He offers the Marshal's Office higher levels of training, such as shooting technique and building clearing. He's helped train all of our officers and brings additional tactical training. Any time we can get our officers additional training, it helps keep them safe."
Members of the Verde Valley Regional SWAT Team are part-time, McClure said, so juggling SWAT hours with his responsibility with CVMO "has not really been an issue. Most of the calls have been on my own off time."
"With all of us being small agencies, it is important to pool our resources together," Gardner said. "We can't assume that nothing will happen in our community. One of my goals is to work in conjunction with the other agencies. This is another area for us to partner and to fight crime. This is a way to handle potential critical incidents that occur in the Verde Valley. They train together, so they are all on the same page.
More like this story