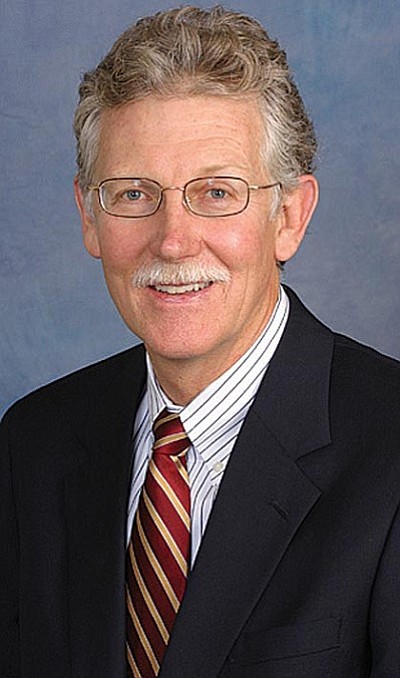 Originally Published: August 20, 2013 4:42 p.m.
The Northern Arizona Healthcare (NAH) Board of Directors named William T. Bradel, F.A.C.H.E., as the new NAH president/CEO at its Aug. 15 meeting.
NAH is a not-for-profit healthcare system serving Northern and Central Arizona. The system provides healthcare services through Flagstaff Medical Center (FMC), Verde Valley Medical Center (VVMC), Northern Arizona Homecare and Hospice, The Heart & Vascular Center of Northern Arizona, Cancer Centers of Northern Arizona Healthcare, Fit Kids of Arizona and Guardian Air.
Bradel, who has been president of FMC since 2006, served as the acting NAH president/CEO for the past several months. He is a member of the Arizona Hospital and Healthcare Association's board of directors where he holds the position of chair-elect.
According to NAH board chair Christopher J. Bavasi, Bradel's demonstrated leadership and accomplishments in his seven years with FMC and his tenure as acting NAH president/CEO made him the ideal choice to lead the NAH system.
"During Bill's tenure at FMC and NAH, his commitment to excellence has been evident in the hospitals' significant continuous improvements in quality, patient satisfaction and employee engagement scores," Bavasi said. "He is an experienced healthcare executive who has represented our organization at the state and national levels. That experience will help guide NAH as we prepare for the exciting changes and opportunities that healthcare reform will bring."
Bradel looks forward to his new position with NAH.
"I feel passionately about the role NAH plays in the lives of patients and families throughout Northern Arizona," Bradel said. "That role will become even more important as hospitals and health systems expand their focus to include the health of communities, not just the patients in their facilities. By our location and breadth of services, we are uniquely positioned to positively impact the health of communities throughout Northern and Central Arizona through population health management. I am honored to have been asked to lead the NAH system during this important time."
Bradel has more than 30 years experience as a senior executive in hospitals and healthcare organizations in Arizona, Maryland, Kansas and West Virginia. Before coming to Arizona, he served for seven years as the executive vice president and chief operating officer at St. Agnes Hospital, a large teaching hospital that is part of Ascension Health, one of the largest not-for-profit health systems in the country.
He received his master's degree in healthcare administration from George Washington University in Washington, D.C., and his bachelor's degree in public administration from the University of Arizona. In addition to his work with the Arizona Hospital and Healthcare Association, Bradel is a fellow of the American College of Healthcare Executives.
For more information on NAH, please visit nahealthcare.com.