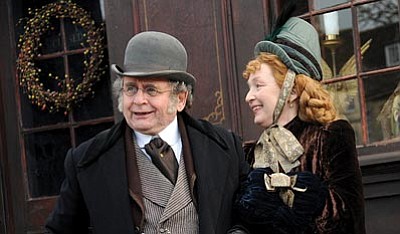 Originally Published: December 10, 2013 1:21 p.m.
SIFF hosts new holiday film 'The Christmas Candle'
Dec. 17-18
The Sedona International Film Festival is proud to present the Northern Arizona premiere of a new holiday film from the U.K.: "The Christmas Candle" on Tuesday and Wednesday. There will be two shows each day at 4 and 7 p.m. at the festival's Mary D. Fisher Theatre.
From bestselling author, Max Lucado, "The Christmas Candle" is a timeless holiday film for the entire family. Tickets are $12, or $9 for Film Festival members. Tickets are available in advance at the Sedona International Film Festival office or by calling (928) 282-1177. Both the theatre and film festival office are located at 2030 W. 89A, in West Sedona. For more information, visit: www.SedonaFilmFestival.org.
Pet Pictures with Santa
Dec. 14
Santa is coming to town as he will be taking pictures with pets.  Saturday, he will be at the Tumbleweed Animal Hospital, 437 S. Main St., Cottonwood, from 11 a.m. to 2 p.m.  
Sponsored by Angie's House, Red Rose Inspiration For Animals, Nick of Time Productions and Tumbleweed Animal Hospital.  All proceeds go to the Emergency Medical Fund for felines and canines as these organizations are dedicated to making a difference and supporting homeless animals that have been injured and in need of emergency medical attention.
Suggested donation of $10 includes a 5x7 print, refreshments and the option to order additional items. For additional information please call Tumbleweed Animal Hospital at (928) 634-3310.
Shop with a Cop
Dec. 14
It's that time of year again for the Shop with a Cop event sponsored by the various Verde Valley law enforcement agencies to help kids who've experience tragedy and/or are less fortunate.  It's a fun program for kids that offers one-on-one time with a police officer while doing something worthwhile in a caring atmosphere.  
They will meet at the Cottonwood Public Safety building on Saturday between 7 a.m. and 8 a.m., have breakfast with the kids (provided by Brandi's Restaurant), take the children to meet Santa Claus - who flies in on a helicopter and then caravan to Wal-Mart. The entire event doesn't usually go beyond 11 a.m. (depending on the shopping speed of the child).
For more information, contact Sgt. Monica Kuhlt at (928) 634-4246.
Book Signing at Humane Society
Dec. 14
The public is invited to meet Richard Corey, famed author of "Bloodline, the Doberman Family," Saturday at the Verde Valley Humane Society, 1520 W. Mingus Ave., Cottonwood, 634-7287.  Mr. Corey will be available to sign copies of his book as well as engage in conversation.
Christmas concert to benefit typhoon victims
Dec. 15
The public is invited to attend a Christmas Concert in Sedona to benefit the victims of Haiyan Typhoon in the Philippines. The concert is set for Sunday from noon to 3 p.m. at the ChocolaTree Restaurant, 1595 W. 89A, Sedona.
Bring your family and friends for an uplifting afternoon of music with Dom Giazzon and other local artists and carolers, as well as a silent auction with many wonderful items to bid on. For more information, please call (928) 282-8508.
Art and music continue at Made in Clarkdale
Thru Dec. 15
Made In Clarkdale 2013 is open daily from 9 a.m. until the end of each event, so you can come by after work and see the work of the 60 plus artists at your leisure. It's a great place for holiday art-gifting for you or loved ones! The last day of the show is Sunday.
Wednesday, enjoy progressive folk rock with the Black Forest Society at Clark Memorial Clubhouse. Join band members William Schwab (guitarist, vocals) and Dave Rentz (percussion, and various instruments) for their instrumental storytelling and inspired improvisation as they explore the spirit of nature.
Thursday, Art As Fashion, from 5 p.m. to close of event, Clark Memorial Clubhouse. Meet and Greet Jewelry Artist Kaayla Fox as she shares the psychological effects and spiritual significance of color and design in using accessories. At 6:30 p.m. shift gears for a live fashion show presented by designer Allie Olson, featuring Allie Ollie Fashions.
Friday, Date Night for Adults "Wine and Theater" 6 to 7 p.m., Clark Memorial Clubhouse. At 5 p.m. Verde Valley Wine Consortium presents tastings of Verde Valley wines followed by Red Earth Theater Group's presentation of "Painting Churches" starting at 7:15 p.m.
Saturday, there will be artist demonstrations throughout the day, ceramics, glass work, art meets science, plus more, fun and informative, art education for all ages. From 6-9 p.m. the grand finale for evenings at Made In Clarkdale 2013 will be rocking out with The Retros, a '70s rock dance band.
For more information, visit www.MadeInClarkdale.org or ww.Facebook.com/MadeInClarkdale.
Dances of Universal Peace Winter Solstice
Dec. 20
The Northern Arizona Dances of Universal Peace invite you to a special Celebration of the Winter Solstice. From the beginning of time, sacred movement, song and story have brought people together. The Dances of Universal Peace are part of this timeless tradition. These simple circle dances are all taught as we do them.
A donation of $8 to $10 is suggested - no one is turned away. Everyone welcome at Sedona Meditation Center, 340 Jordan Road. For more information, call (928) 301-9686 or visit the website www.dup-naz.org.
Verde Valley SciTech Festival debuts
March 22-29
The Verde Valley will showcase student work in Science Technology Engineering & Math (STEM) at the first Verde Valley SciTech Festival. Participants will open doors of our community facilities, host special experiences in our city businesses and feature special activities, including:
3D Printing, Valley Academy for Career & Technology Education (VACTE); Science of Hydrology, City of Cottonwood Water System; Science of Avionics & Robotics, Emery Riddle Aeronautical University & Cottonwood Airport; Police & Fire Forensic Investigations, Verde Valley Law Enforcement and Fire Departments; Technology Showcase, Mingus Union High School; Rangeland Management, University of Arizona; Student STEM Exhibits, Cottonwood-Oak Creek School District; Health and Allied Sciences, Chemistry, Biology, Viticulture and Enology Yavapai College; Take Note: Cottonwood - Lecture Series, Verde Valley Medical Center; and RiverFest Outdoor Science, VRVNO & Dead Horse Ranch State Park.
More like this story