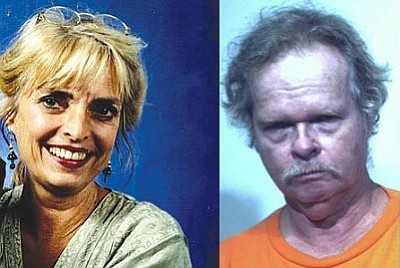 Originally Published: December 17, 2013 2:39 p.m.
CAMP VERDE -- Robert Reed, the man who's accused of killing Camp Verde woman Krystal Forest about the end of March 2009, is awaiting trial in the Yavapai County Jail. He faced Judge Michael Bluff Monday morning for only his second pre-trial hearing since his arrest in September.
Reed, 57, is already in prison serving 10.6 years on an unrelated conviction for arson of an occupied structure and endangerment.
The case was unsolved for years and became the subject of a cold case investigation. Reed is early in the court process. His attorney, Matthew Cochran, Monday asked Judge Michael Bluff for an extended time until the next appearance. He said he case is very paperwork-intensive and he also has another a conflict.
Reed, who formerly lived in Camp Verde as well and used the pseudonym Charles Olsen, reportedly had befriended Kristal Forest and was said to be helping her move. Kristal and Robert Reed were last seen at the A1 Storage yard on SR 260, Camp Verde, about March 28, 2009. Kristal's 1997 red Pathfinder and a U-Haul trailer were also present at that time. Further investigation revealed that Kristal's U-Haul trailer had been towed to a storage yard on North Main Street in Las Cruces, N.M., about 2 a.m. on April 2, 2009.
Kristal Forest was not seen again.
Lead Detective Doug Brown, assisted by Cold Case Unit volunteer and retired detective Paul Chastain, spent hundreds of hours chasing leads, conducting searches, and interviewing anyone who might have information regarding the case, including Reed. The detective's maintained contact with the County Attorney's Office as the case developed eventually sustaining the 26-count indictment.
More like this story