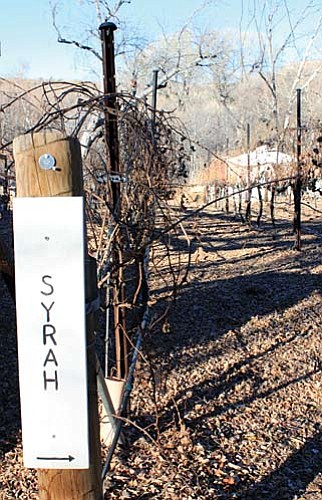 Originally Published: February 6, 2013 10:35 a.m.
Verde Entertainments is proud to announce the 13th annual Pecan and Wine festival, an annual Camp Verde tradition. The 13th annual Pecan and Wine festival will be held during President's day weekend, Friday, Feb. 15, through Sunday, Feb. 17. Festival hours are from noon to 6 p.m. on Friday, 10 a.m. to 6 p.m. on Saturday and Sunday from 10 a.m. to 5 p.m.
Premier sponsor Cliff Castle Casino, Camp Verde's Chamber of Commerce, The Horn Saloon, SRP, White Hills Gallery, and Tkatchov & Tkatchov CPA are sponsoring Verde Entertainments in launching this year's event. The festival is an annual event that invites everyone to celebrate Camp Verde's pecan agriculture and the growing viticulture of Arizona at the Camp Verde Community Center, located at 395 S. Main St. Admission is $15 per person and includes your entrance fee, five tasting coupons, a commemorative wine glass and free entrance to the Fort Verde State Park; the state park is adjacent to the festival ground.
For the 13th anniversary, 14 Arizona wineries, (Alcantara Vineyard & Winery, Caduceus Cellars, Arizona Stronghold Vineyards, Burning Tree Cellars, Painted Lady, Carlson Creek Vineyard, Kokopelli Winery, Granite Creek Vineyards, Page Springs Cellars, Gallifant Cellars, Oak Creek Vineyards & Winery, Fire Mountain Wines, Javelina Leap Winery, and Bitter Creek Winery) have signed up to participate in this year's festival. Each winery will have their wines available to taste with answers on how it's produced right here in Arizona. The viticulture of southern Arizona and the Verde Valley will both be highlighted at this year's festival.
From now until Feb. 14, pecan growers from the region should bring forty nuts from a single tree to the Camp Verde Parks and Recreation, 395 S. Main St., to be judged for their quality by the Master Gardner. They are open between 7 a.m. and 5 p.m. Monday through Thursday, and 7 to 11 a.m. on Friday. Pecan judging will begin on Saturday, Feb. 16, with ribbons and awards handed out to the best pecans. For more information contact Verde Entertainments at 800-827-1160. At the festival, there will also be pecan cracking and cleaning demonstrations by a local pecan grower.
The Fort Verde State Park will host their annual pecan pie contest again on Saturday, February 16th. For information on how to participate in the pecan pie contest, contact Fort Verde State Park at (928) 567-3275. Awards will be given for the best pecan pie on Saturday afternoon. In addition to the annual pecan and pecan pie contests, there will be plenty of pecans, pecan pies and other pecan inspired food for sale during the three-day festival.
With the entrance to the Fort Verde State Park added to the ticket price this year, the President's Day weekend event in Camp Verde will be one not to miss. Local performers and musicians, including Sugar Thieves, Robin Dean Salmon, Mike McReynolds Band, T-Bone and Jeff, Castle Rock, Crown Dancers, The Chromatics, John Whipple, Vyktoria Pratt Keating and more, are scheduled to perform on the outside stage, in the wine tent and in the gym. Local artists will be selling their art in the gym along with an art show put on by White Hills Gallery in the theme of "Agriculture." There will be dozens of vendors from around the Southwest selling handmade baked goods, antiques, collectibles and various other goodies, available both in the gym, outside, and in the wine tent.
The award-winning weekend experience has been an entertaining event for all, and is considered a must do for a February getaway in central Arizona. More information and updates on this year's festival can be found at www.PecanAndWineFestival.com or contact Verde Entertainments and Pecanandwine@gmail.com.