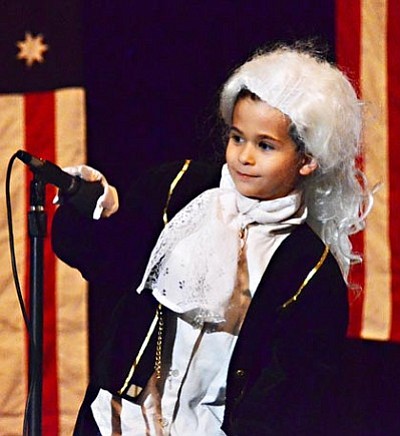 Originally Published: February 24, 2013 7 a.m.
United Christian School of Camp Verde presented a patriotic-themed concert for families and the community on Thursday, February 21, at the Multi-Use Complex in Camp Verde. The 90-minute program, titled "God Bless America," traced the history of America through noteworthy events and personalities brought to the stage through the ingenious use of a time machine.
Most of the students passed through the time machine and took a turn at the microphone, explaining who they were representing and what important role they played in the development of the nation. Abraham Lincoln, Betsy Ross, Rosie the Riveter and Lewis & Clark were a few of the historical figures brought to life by the students.
Breaking up these presentations were patriotic songs, sung and acted out by the kids on stage, 1st through 5th grade. Kindergarten opened the concert with a song, and middle school students appeared towards the end, but the elementary students performed the majority of the evening.
Other highlights from the concert included the live recreation of famous news photographs, a Snapshot Through History, and honoring Veterans by bringing those who served this country onto the stage to introduce themselves, or to be introduced by their children and grandchildren who attend the school.
More like this story