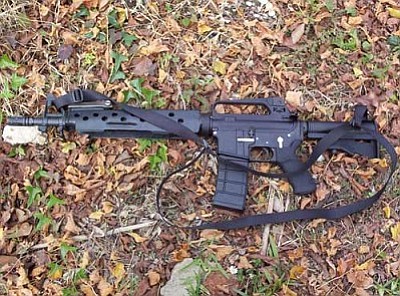 Originally Published: January 9, 2013 1:15 p.m.
PHOENIX -- Gov. Jan Brewer said she won't support any new laws to limit who can carry a gun, even in the wake of the killing of students and teachers in Connecticut.
"I'm a strong supporter of the Second Amendment,' the governor said Tuesday, which also was the second anniversary of the shootings in Tucson at a community event being led by then-Congresswoman Gabrielle Giffords that left six dead and others, including her, permanently injured.
The governor acknowledged that, in the wake of those tragedies "people are concerned.' But Brewer said that should not translate into new restrictions.
"I am not a proponent of gun control,' she said. Instead, Brewer said she will continue to follow the trajectory she has outlined in the last two years when she vetoed measures to allow weapons into places where they are not now permitted, like rights of way on college campuses and in public buildings that don't have metal detectors.
"I'm a proponent of safe areas and, certainly, safe schools,' the governor said.
"I think we all can agree that we need to assure that our schools are safe and that public areas are safe,' she continued. "But that doesn't necessarily mean gun control. We have to come up with solutions.'
The governor, however, offered no specific solutions of her own, saying only she is "hopeful' the issue will be reviewed at both the legislative and congressional level "and we can address what it is that we, as government, can do to make it safer.'
Brewer also sidestepped the question of whether the National Rifle Association, which has taken the stand that the answer to gun violence is to let more people carry their weapons into more places, is out of step with the views of most Arizonans -- or even with her own position.
"You probably would be better to talk to the NRA in regards to that issue,' she said.
Nor was she willing to criticize that organization or suggest, as did Giffords and husband Mark Kelly in a op-ed column Tuesday, that the NRA exerts too much influence.
In forming Americans for Responsible Solutions, the pair said "special interests' that purport to represent gun owners are "really advancing the interests of an ideological fringe' and "have used big money and influence to cow Congress into submission.'
"Rather than conducting a dialogue, they threaten those who divert from their orthodoxy with political extinction,' the pair wrote.
But Brewer, who got an A-plus rating from the NRA when she ran in 2010, said she doesn't see it that way.
"I think that the NRA represents a huge number of people that believe in the Second Amendment,' she said.
Much of what can be done about the sale of guns is controlled at the federal level.
For example, federal laws which require a background check on gun purchasers do not apply to what are considered person-to-person sales. And that has been interpreted to include those who buy or sell weapons at commercial gun shows, even in large quantities.
But there are ways for some local regulation.
For example, in 1999, after a triple murder at a Tucson pizza shop, city officials made doing background checks on buyers a condition of conducting those shows in the city-owned convention center. But lawmakers in 2002 approved a measure which bars cities from imposing such restrictions.
Then-Gov. Jane Hull allowed the bill to become law without her signature. On Tuesday, Brewer was noncommittal about how she feels about giving that right to demand background checks back to cities.
"Moving forward in this session, I know that's something that's going to be debated and deliberated,' she said. "It's something that I will give some thought to.'
But Brewer had a chance to consider the issue following the 2011 incident in Tucson.
Weeks after that shooting, New York City Mayor Michael Bloomberg released videos take by undercover agents at a Phoenix gun show just 15 days after that incident. Arizona private investigators hired by New York City were able to buy weapons not only without a background check but, at least twice, did so after admitting to sellers they probably would not pass a check.
Brewer, asked about Bloomberg's action, defended the 2002 law forbidding cities from requiring background checks. "We believe our laws are fair and just in the state of Arizona," the governor said at the time.
The governor is also on record as opposing any law which would limit the sale of high-capacity ammunition magazines.
More like this story