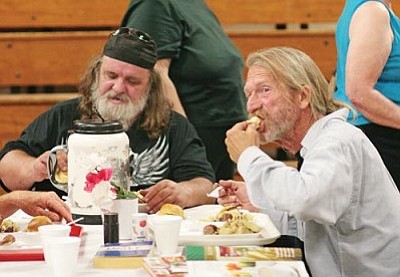 Originally Published: July 9, 2013 2:11 p.m.
CAMP VERDE - It has been said that the world does not have a hunger problem, just a distribution problem.
Since 1994, Bread of Life Missions in Camp Verde has been trying to conquer both problems, locally.
Serving more than 100 meals each Tuesday night, as well as giving away close to 75 boxes of produce and staple goods, Bread of Life is for many Verde Valley residents the only way to stave off hunger.
"Right now, we're going through hard times," says Bartolo Rojas of Camp Verde. "So this means a lot to my family right now."
"If it weren't for them, I'd be hungry a lot," says Camp Verde resident Clyde Sexton, who has been coming to Bread of Life for 16 years. "Right now, I'm out of food."
Thanks to the Town of Camp Verde, Bread of Life Missions feeds both body and soul at the Camp Verde Community Center, located at 435 S. Main St. Devotions, music and prayer begin at 5:30 p.m. Dinner is served at 6 p.m. Food box distribution follows dinner.
According to Janiece Maxwell, Bread of Life volunteer, 84 percent of the people who receive weekly help from Bread of Life are Camp Verde residents, 8 percent are Rimrock residents, 3 percent are Lake Montezuma residents, 3 percent are Cordes Junction residents and 2 percent come from Cornville.
In 2012, Bread of Life provided 10,000 hot meals every Tuesday evening and distributed 7,500 food boxes accounting for more than 562,000 pounds of food.
Bread of Life began as a Bible study by Wally and Randi Clark. When they saw the need to help feed the hungry, the Clarks began collecting and distributing food.
"Everything we do is in the name of Jesus," says Duane Burris, Bread of Life director for the past nine years. "And everything we do is free to the public."
Bread of Life, however, is far from free to operate. Despite the food donations, Burris says it takes close to $85,000 each year to run the program.
Since Burris came to Camp Verde, he has been involved with Bread of Life. He says it has been "a real blessing" for him.
"Bread of Life has taught me patience and it has helped me understand people a lot better," Burris says. "I started volunteering because I wanted to serve Jesus. Then circumstances led me to being the director. So now I get to serve Jesus and get paid. You get tremendous blessings. And you get to feel like you're doing something worthwhile."
Not only did Burris find a better quality of life at Bread of Life, but he also met his wife.
"This is part of our lives," says Aracely Burris. "I've been with Bread of Life for 17 years. It's like a family here. We wait for Tuesdays. Every Tuesday is important. I love helping people and I love serving the Lord."
Each week, Joe Barr and Tina Marie Dunn of Camp Verde come to Bread of Life's Tuesday dinners. To Barr, it is "the highlight of the week."
"It's really nice to be around the people who come here," Barr says. "This brings people together. We have great fellowship along with the awesome food they bring to the table every week. We're one big happy family."
"Bread of Life Mission would not exist without our wonderful caring volunteers and the generous contributions from many compassionate and sharing donors who have opened their hearts to people in our community," says Maxwell, who has been volunteering for Bread of Life since 2000.
"They are like my second family," she says. "I have met interesting and fun people filled with hope. Many of them have become my close friends. I have watched families grow, and children become adults, with some people being saved and becoming believers. Every Tuesday evening, we sing, pray, worship, listen to a spiritual message and eat dinner while sharing our weekly events, disappointments and dreams. It has been very fulfilling and gives me an uplifting positive feeling in my heart to give back to the community and serve God."
During the July 2 pre-dinner devotions, Pastor Ralph Belzer of New Beginnings Church of the Nazarene in Camp Verde spoke of charity.
"We have to take his provisions and share them with others," Belzer says. "God does not want his people to be begging for bread."
Timothy Shepard calls Camp Verde his home. Though his home is outdoors. He comes to Bread of Life each week, he says, to see friends, as well as for food.
"I come here to eat good food, and I can eat some spiritual food," Shepard says. "I am homeless. I live in a ditch. But I have no complaints. If Jesus walked around in rags, I have nothing to complain about. I am blessed."
Bread of Life volunteers spend several hours each Tuesday preparing for the evening's meal and devotions. They start boxing up pastries, produce, snack goods, beverages, cereal and sometimes frozen meat at 8 a.m. According to Burris, Bread of Life distributes USDA products on the second Tuesday of each month.
At noon, volunteers begin setting up the tables in the Community Center. Between noon and 3 p.m., volunteers begin preparing the evening's dinner. As early as 2:30 p.m., people will line up to receive a number that determines when they pick up their food boxes at the end of the evening.
"We cook, we serve food and our pastor comes and gives the service," says Ruth Jensen, a member of New Beginnings Church. "I like being around, helping people. The Bible says we are supposed to do this. I try to do what the Bible says."
Many of the volunteers are people who once came to Bread of Life because they needed food. Many said they were compelled to say thank you by helping others. For the past few years, Rick White of Camp Verde has been volunteering with Bread of Life.
"They fed me and my family when we were hungry," he says. "When things turned around, I wanted to give back."
Jim Summers and his girlfriend Marianna Fick, both of Camp Verde, have been coming to Bread of Life for their physical and spiritual sustenance for close to two years. And each helps serve food before they sit down to partake in their own meal.
"For me, this means several things," Summers says. "First, to follow my walk with the Lord. It's a nice, safe, social event. People can come here and get a box of food, if they so choose. And they can get a meal, if they so choose. A lesson I've learned here is to not judge people based on their situation.
"Marianna doesn't mind sweeping the floors or mopping," Summers says. And I'm pretty much all over the map, serving, sometimes the bread table. I load the truck. The list goes on."
"I like to come here to volunteer, to serve food and to follow Jesus," Fick says. "The food is good, absolutely."
Summers says that he and Fick rely each week on Bread of Life. "If we didn't receive this box [of food], well, we'd be in a pickle. We'd be starving."