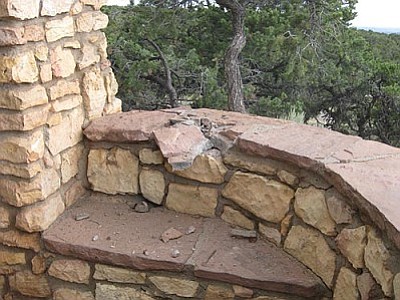 Originally Published: July 24, 2013 11:35 a.m.
Lightning struck three people, killing two of them, around 3 p.m. on Tuesday on an overlook north of Jacob's Lake.
The bolt struck in the area of the LeFevre Scenic Overlook at MP 590.4 on Highway 89A in Coconino County.
The identity of the two people killed, reportedly visitors from out of the country, is pending notification of relatives. A group of people was standing on the overlook at the time of the incident.
The third victim was a child who was traveling with a group of other people. The boy was knocked to the ground by the lightning. He was treated for non-life threatening injuries and transported to an area hospital.
After the lighting strike several other people at the overlook called the Kane County 911 Dispatch Center on their cell phones. Kane County Ambulance from Utah, the Arizona Department of Public Safety and Coconino County Sheriff's Office responded to the scene about eight miles north of Jacobs Lake.
The two deceased victims were transported to the Coconino County Medical Examiner's Office in Flagstaff.
More like this story