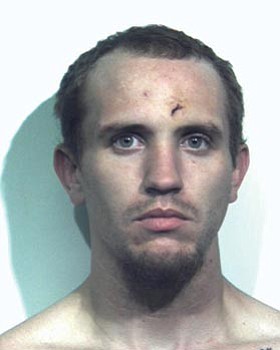 Originally Published: July 25, 2013 1:27 p.m.
COTTONWOOD -- Three of the four people implicated in a Cottonwood home invasion and burglary attempt that resulted in a shoot-out in mid-February are dealing with criminal charges in court. One man, however, originally in custody, was mistakenly released from the hospital.
Early Feb. 15, two men crashed through the front door of 46 S. 18th St., south of Main Street in Cottonwood. The men, Kyle Ritter, now 21, and Nicholas Reid, now 24, had targeted "Larry" Melquedas Cordova, who had been raising marijuana.
They hoped to burglarize Cordova and they armed themselves, broke in and found Cordova's safe and carried it outside.
Reid and Ritter and the victim exchanged gunfire in the middle of the night as part of the burglary attempt and it all ended with the gunfire and apparently friendly fire.
Reid hit Cordova with the butt of his pistol, and while doing so, Reid also accidentally shot Ritter in the upper chest. Cordova also suffered two gunshot wounds to the legs.
Police found Ritter lying face down near the driveway of the home near Cordova's safe.
He was wearing a bullet-proof style vest loaded with magazines for a gun. He was flown to Flagstaff Medical Center.
Reid fled before police arrived and was missing for two weeks before a tip led to his location in Phoenix, where he was apprehended.
A Grand Jury indicted Reid, Ritter and Ritter's girlfriend, Kimberly Symone Harrington. Reid and Ritter were indicted for conspiracy to commit burglary, burglary, several counts of assault and misconduct with a weapon.
Harrington was charged with misconduct involving weapons, two counts of forgery, obstructing a criminal investigation and hindering prosecution. As a prohibited possessor, she had falsified a firearms transaction record and bought a 9mm handgun for Ritter.
A second woman, 18-year-old Tawni Marie Nickerson, was charged with false reporting to officers.
Nickerson entered a guilty plea in justice court and was sentenced.
Reid was scheduled for a "Donald hearing" to compare potential sentencing if he was convicted of all 14 alleged counts at trial with a plea agreement. But recently his attorney, Terry Hance, had discovered that he had a conflict of interest with Reid and withdrew from the case. Reid's new attorney, Matthew Springer, asked for more time, telling the court in a motion that he had 34 audio and video CDs to review in order to properly defend his client.
Kimberly Harrington, who had been at large and thought to be with Ritter, surrendered to police in early May and is being processed in the court.
After Ritter recovered from his wound in the hospital, he apparently was mistakenly released from the hospital and has been missing ever since.
Police spokesman Sgt. Cody Savage says he looks every week to see if Ritter has been re-arrested. He says detectives continue to get tips regularly, but "so far, they have produced no real investigative leads."
The victim, Melquedes Cordova Jr., had told investigators that he was legally growing medical marijuana for a dispensary, but officers believed the number of plants was greater than even allowed under law. Charges were forwarded to the Yavapai County Attorney for review.
Wednesday at about 7 a.m., Kyle Kristopher Ritter was observed leaving in a vehicle from an apartment in Liverpool, N.Y.
Deputy U.S. Marshals conducted a traffic stop and Ritter initially tried to give a false name. However, when confronted with his wanted poster, Ritter stopped speaking and was taken into custody without incident.
Ritter is suspected to have been involved in the Feb. 15 home invasion on South 18th Street. in Cottonwood. Ritter was subsequently shot during the invasion by one of his accomplices. Ritter is currently being held in New York and extradition proceedings are currently under way. Information that led to his arrest was provided through an anonymous tip that was relayed to the U.S. Marshal's office in New York.