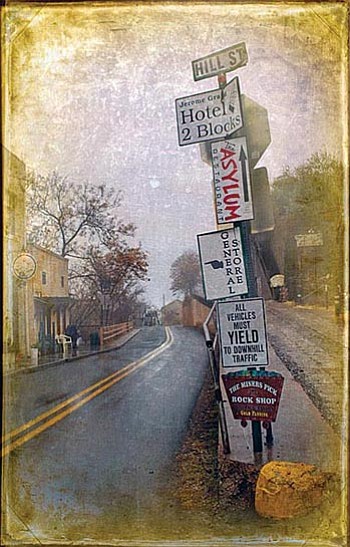 Originally Published: July 25, 2013 1:10 p.m.
Jerome Art Walk
Aug. 3
A warm and sultry night filled with art, music and gallery hopping is in store for First Saturday Art Walk in Jerome. Visit 23 galleries and studios throughout this charming mountain town from 5 to 8 p.m. A free shuttle runs during the walk, from the newest studios at The Old Jerome High School up to Main Street and the gallery of Patrick Lincoln and Made in Jerome Pottery. Call (928) 649-2277.
VBS at New Beginnings
July 29-Aug. 2
Vacation Bible School, 5:45-8 p.m., Kindergarten - Sixth Grade, at New Beginnings Church of the Nazarene in Camp Verde: Come and join us for "Paul's Dangerous Journey Through Athens." Visit a real Athens Market Place. Wear an Athens costume. Enjoy the crafts, snacks, games and a theatre with live skits and puppet performances. Join in the music and dances of Athens. Be part of an Athens family. Learn to spread the good news of Jesus to those that don't know Him. For pre-registration visit the website, www.newbeginningsnaz.org or call the church at (928) 567-6336.
Community invited to VVMC award celebration
July 30
Verde Valley Medical Center has once again been recognized as a national leader in patient safety by Healthgrades® - the nation's leading healthcare rating organization. VVMC received the Healthgrades® Patient Safety Excellence AwardTM for the fifth consecutive year and was ranked in the top 5 percent of hospitals in the nation for patient safety in 2013. VVMC is just one of six Arizona hospitals to receive the Patient Safety Excellence AwardTM.
VVMC will celebrate receiving these prestigious awards at 1 p.m. on Tuesday in the EntireCare Lobby, 269 S. Candy Lane. The ceremony will include an award presentation to VVMC administration, board members and staff, and the reading of a mayoral proclamation, followed by a reception for staff and visitors.
Compassionate Friends meeting
Aug. 1
The Verde Valley Chapter of The Compassionate Friends will meet Thursday at 6:30 p.m. The meeting will be held at Verde Baptist Church Fellowship Hall, 102 S. Willard St. in Cottonwood.
The Verde Valley Chapter is a chartered chapter of The Compassionate Friends/USA, a national nonprofit, self-help organization offering friendship, understanding, and hope to families grieving the death of a child of any age, from any cause. The newly reorganized Verde Valley The Compassionate Friends chapter meets the first Thursday of every month.
Anyone who needs to talk about the loss of a child may contact co-leaders Barb Prats or Sheila Latham at (928) 300-3078. The national website is www.compassionatefriends.org. TCF Verde Valley is on Facebook: www.facebook.com/TCFVerdeValleyChapter.
Facts Keep Gettin' in the Way
Aug. 3
Michael Peach presents his popular cowboy poetry show, The Facts Keep Gettin' in the Way of the Story," on Saturday at 1:30 p.m. at Sedona Heritage Museum, 735 Jordan Road, Sedona. Cost is $6 per adult.
For more info, call (928) 282-7038, www.sedonamuseum.org.
Groundwater in Clarkdale-today and in the future
Aug. 7
The public is invited to attend the second meeting regarding the ongoing Water Resource Management Program in Clarkdale from 5:30 to 7 p.m. in the Men's Lounge of the Clark Memorial Clubhouse. Laurel Lacher of Lacher Hydrological Consulting Inc. will use the 2011 USGS model to describe current groundwater and baseflow conditions in the Clarkdale area and how they have evolved over time.
The public is encouraged to attend this important meeting and participate in the process of planning for future water use. Questions may be directed to the Community Development Department at (928) 639-2500.
Camp Twilight for Girl Scouts
Aug. 19-23
Girl Scouts are having Camp Twilight "The Wild West" in August. The camp will be from 5:30 to 7:30 p.m. at the Verde Valley Fairgrounds. Activities will include camp songs, crafts and activities related to our theme of "The Wild West." The cost is $15 for the whole week; this includes snacks.
If you have a girl that is currently in Girl Scouts or wants to be in Girl Scouts, this is the place to be. They will have activities for all ages of girls and then on Friday they will have a training session for adults to become leaders. The older girls will have classes to learn a skill such as crochet, knitting and others. If you are able to teach girls to knit or crochet they need your help, or if you are able to teach other classes please let them know.
Registration will be on Monday, Aug. 19, at the Verde Valley Fairgrounds at 5:30 p.m. Girls can attend one or all nights for the one low cost of $15.
For information or to help out, call Coleen Gilboy at 300-3914.
Zenprov Comedy performs for HERO benefit
Aug. 23
Zenprov Comedy kicks off their fall season with a special benefit show for HERO (Humanitarian Efforts Reaching Out), a Sedona-based charity. Titled "A Funny Thing Happened On The Way To Nicaragua", this one-night-only completely improvised performance will take place at 7 p.m. on Friday at the Sedona Creative Life Center, 333 Schnebly Hill Road. Doors open at 6:30 p.m. and the show starts at 7 p.m., and will run approximately 90 minutes.
Call (602) 481-6188.
Illusion of Depth 3D
Aug. 2
White Hills Gallery invites you to come put on 3D glasses for the month of August. In "Illusion of Depth," White Hills Gallery has invited three regional artists, illustrator Gary Bennett, painter Ian Cochrane, and graphic artist Bill Stedman to wow the Verde Valley with something different--- something a little 3D. The opening reception is Friday from 5 to 8 p.m.
White Hills Gallery is located at 325 S. Main St., in downtown Camp Verde in the old historic Boler's building. For more information about upcoming events, see our website at www.WhiteHillsGallery.com or call (928) 274-7903.
More like this story