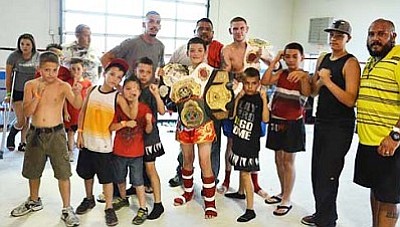 Originally Published: June 11, 2013 10:32 a.m.
It was another exciting slate of fights put on by the Golden Cobra Center of Fitness at Down and Dirty III, on June 8.
The card was like the others the gym has put on in the last few months, boxing exhibitions that led into kickboxing and Muay Thai fights that were regulated by the International Kickboxing Federation (IKF).
Golden Cobra had a slew of its' mini-cobra's on the undercard, but unlike the past few fight cards, the two main events were without a fighter from the gym. One of the main event fighters, Phil Gage, was fighting out of the UFC Gym, but was also representing Golden Cobra.
Aside from Gage, the only home-grown talent that Golden Cobra had on the main card was 9-year-old Joseph Freudenreich, who fought 10-year-old Marcos Santiago, from Flagstaff, in a rematch of the their bout from a few weeks ago.
Joseph won the first match against the two in a thrilling back-and-forth fight, and while the mini-cobra did not come out the victor again, he did put on just as exciting of a match with Marcos, and both the young fighters' coaches immediately said they wanted a rubber-match.
When it was time for Gage and his opponent, Victor Alvarez, from Simi Valley, Calif., representing Tarzana Boxing, to step into the squared circle for the IKF Southwest Regional Welterweight title fight, both fighters left everything in the ring.
The fight was set for four rounds and, if it were declared a draw, a fifth round would be necessary. The way these two fighters went at each other, a case could have been made for a sixth and seventh round. Both Gage and Alvarez had their moments through the first four rounds, producing fireworks for the spectators and jockeying for the upper hand.
At the end of the fourth round, both fighters went to their corners expecting a fifth, and final, round, and it was given to them. The two combatants left it all in the ring, but Gage was declared the victor by a narrow margin. In the end, it was the Phoenix fighter's use of elbows and his overall knowledge of the Muay Thai game that helped lead him to victory.
This is the final fight card Golden Cobra will be putting on for the near future, as the trainers from the Cottonwood gym help prepare three mini-cobras for the upcoming IKF World Classic in Orlando, from July 19-21.
More like this story