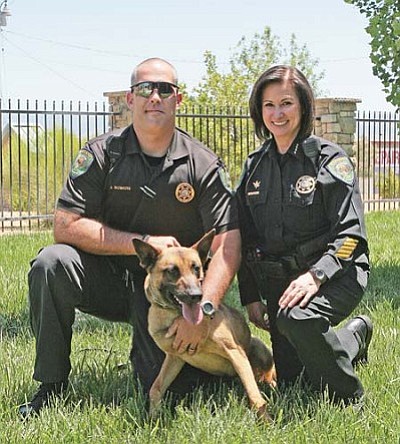 Originally Published: June 13, 2013 2:35 p.m.
CAMP VERDE - After more than five years with the Camp Verde Marshal's Office, officer Jeff Bowers is accustomed to working alone.
But now he has a partner. And his partner walks on four legs.
Claymore, a 2-year-old Belgian Malinois, is the Camp Verde Marshal's Office's newest K9 service officer. Bowers and Claymore recently finished nine weeks of training with the Arizona Department of Corrections in Tucson.
Bowers said he could not have successfully completed the training without the help of instructors Ralph Pendergast, Steve Lowe and Kenny Vance. But Bowers and Claymore are not finished with their training. Each Wednesday, the team meets at the Prescott Valley Police Department for additional instruction.
"It's different, having a partner," Bowers said. "Everybody is excited about the police, especially the kids. But the people now step out of their shell and talk to an officer with a dog. It's great."
Though Bowers is an experienced officer, this is Claymore's first assignment in the Verde Valley. Claymore had previously worked with Officer Tony Fernandez of the Avondale Police Department.
"We're very happy with his ability," said Marshal Nancy Gardner of Claymore. "He's a strong, personable dog who is fitting in very well with the Marshal's Office."
"Claymore is doing great," Bowers said. "He is certified in narcotics. He is certified to find narcotics in buildings and in cars. What we call patrol work, that can be the searching of buildings and other areas for hidden suspects. We call it tracking. And he's doing well."
"Now that I have a partner, it's just so much better," Bowers said. "It's exciting that I have a backup, no matter what situation that I am in. It's so much better for me. He's the right fit for Camp Verde."
Marshal Gardner is also pleased with how Claymore has complimented the CVMO.
"At the beginning, it's always the hope that somebody who wants to be a K9 handler actually likes it," Gardner said. "The difference I see in Deputy Bowers, from when he began his training, is he has really grown into the position. It gives me pride that he is achieving one of his goals and that I was able to help him along with that process.
"We're also very happy with Claymore's progress and with where the department is going," Gardner said.
"Because we are a small agency, Claymore knows the other officers," Bowers said. "If another officer is being assaulted, I can send Claymore to help that other officer."
Bowers said he had minimal experience with dogs prior to his partnership with Claymore. Not only has he been learning how to work with the K9 officer, Bowers has brought Claymore into his family. Claymore lives at the Bowers home.
"Belgians are naturally protective of their area," Bowers said. "His car, his kennel, my house, me, my family. If something were to happen, he will protect that. He's part of my family."
"Claymore has a huge play drive," Bowers said. "But he doesn't realize how big he is and how small my son is. But they play together. I don't worry if he's going to bite my son. My wife pets him. He listens to her."
Though Bowers says he has adjusted to working with his four-legged friend, he realizes that Claymore is first and foremost a service dog.
"He's a tool," Bowers said. "He's no different from a radar or an intoxilyzer for a DUI. He's a tool to better us as police officers. He's helped me, and he is a tool that other officers can use.
"There's only one handler, but he is a tool that can help everybody."
Thanks to a nationwide animal-related groupon event that ran from March 13-20, Claymore will receive a protective vest from Vested Interest in K9s, Inc., a non-profit organization and charity partner.
More like this story